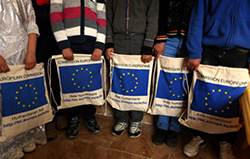 The EU assists refugees who have fled the violence inside Syria
Relations between the European Union and Syria are governed by the Cooperation Agreement signed in 1977. Negotiations on an Association Agreement were frozen in May 2011. Bilateral cooperation programmes under the European Neighbourhood Policy have been suspended, as has participation by the Syrian authorities in the EU's regional programmes.
In August 2011, and in response to the harsh repression of peaceful demonstrations against the government, the EU froze financial and technical assistance programmes provided bilaterally to Syria, and gradually extended restrictive measures

in areas such as oil, banking and trade. The aim has been to encourage an end to violence and a political solution to the conflict. EU travel bans have been imposed on a number of Syrian citizens. From the outset, the EU has condemned human rights violations in Syria in the strongest terms.
By 2014, the Syria crisis had become the largest humanitarian and security disaster in the world. The EU, with its Member States, is leading the international response. Around €2.8 billion has been mobilised for relief and recovery assistanceto Syrians

inside their country as well as to refugees and their host communities. The EU calls for the respect of international humanitarianlaw, the protection of civilians and the safety of humanitarian personnel.
In response to the conflict in Syria and its consequences both in Syria and in neighbouring countries, the EU adopted a joint communication

mapping out a comprehensive EU approach in June 2013
The EU has contributed significant funds to supporting international efforts to locate and destroy Syrian chemical weapons

and maintains pressure on Syria to ensure that the chemical weapons programme is completely and irreversibly dismantled.
Europeans fighting in Syria

are an issue of serious concern, also from the perspective of the EU's internal security.
The EU reiterates that there can only be a political solution to the crisis in Syria, and supports the international community's efforts, notably those of the Special Representative of the United Nations.