Welcome
Dear visitor,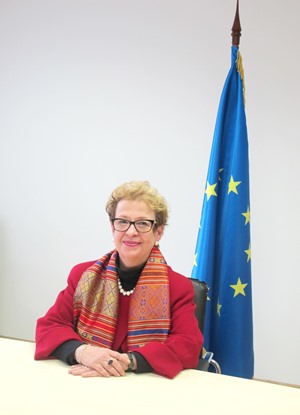 Welcome to the website of the Delegation of the European Union to Belarus. It offers quick access to EU news, information about the EU and its policies, EU-Belarus relations, as well as the Delegation's role, its projects and activities.
After twenty-five years in the German diplomatic service, a period that included a three-year assignment in Belarus, I am honoured to come to Minsk and head the Delegation team.
We all look forward to working with Belarusians in and out of government to find ways to improve the bilateral relations and be of assistance to the people of Belarus in their effort to build a democratic, prosperous and secure society. For the European Union, Belarus is important as a neighbour, as an integral part of the European heritage and the European community of nations.
During the last few years, the EU has provided 30 million euros per year on average for projects in Belarus and for the benefit of the people of this country. These projects have targeted a wide range of areas, such as environment, social sectors, and regional development. This cooperation takes place both with the authorities and with civil society and will continue in a similar fashion in the following years.
We are happy to see the MOST Project take off, giving hundreds of Belarusians an additional opportunity to develop professional contacts with their colleagues in the EU in a wide range of fields. Higher education is another important area of regional cooperation in which Belarus takes part via Erasmus+. Very shortly, we hope to proceed with BELMED, a programme to help the Belarusian healthcare system adapt to new challenges. Since 2001, the EU has allocated over 75 mln euros in financial assistance to the Belarusian border services, making that sector the largest recipient of aid in Belarus. EU-Belarus cooperation in energy security, green economy and environment has developed steadily over the past two decades. Belarus has been involved in projects in areas such as transport, border management and customs, migration and asylum, measures against human and drug trafficking, management of man-made and natural disasters, and other areas of regional and cross-border importance. It is time we look for ways to do more together.
Thank you for your interest. If you are on Facebook, I hope you find our page useful. Please feel free to contact the Delegation if you have any comments or questions.
Sincerely,
Andrea Wiktorin
Head of Delegation, Ambassador