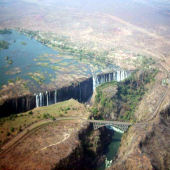 Zimbabwe
Key issues in EU-Zimbabwe relations
After the escalation of political violence related to the elections in 2002, the EU decided to introduce measures against Zimbabwe as a means to put pressure on those considered responsible. These measures have been renewed each year since 2002. In February 2011, the EU concluded that significant progress has been made in addressing the economic crisis and in improving the delivery of social services. However, more reforms are necessary with regard to the respect for the rule of law, human rights and democracy. For this reason, the EU has decided to lift the measures for 35 persons and to renew the remaining measures for one year. These measures can be reassessed at any moment should positive developments take place. See: What do the measures entail ?

[12 KB]

Development assistance
Since Zimbabwe's independence in 1980, the EU has provided development assistance. The introduction of the measures in 2002 has not resulted in a reduction of EU development assistance; rather, the provision of assistance was directed solely through non-government channels.
The EU and its Member States have provided approximately €1.5 billion in development assistance since 2002. Since the creation of the Government of National Unity in 2009, an event which provided a new impetus to EU-Zimbabwe relations, the EU has provided €365 million. The European Commission has provided €90-100 million per year in development assistance to the people of Zimbabwe in the areas of food security and agriculture, social sectors and the promotion of governance.
To illustrate aspects of EU support:
In part as a result of the EU having provided over a quarter of the fertilizer needs of Zimbabwean communal farmers for the period 2009-2010, a significant reduction in the food security deficit was recorded;
The EU provided 80 percent of the country's vital medicines needs in 2010;
The EU provided textbooks to almost all children going to primary school;
Support for social services was reinforced as a result of a 2009-2010 EU contribution of €80 million to address humanitarian crises;
Support for key governance reforms as a means to encourage an environment conducive to credible general elections.