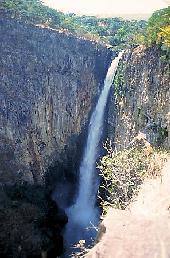 Zambia
Political and Economic Relation
Political Framework: Partnership between the European Union and Zambia is based on the ACP-EU Cotonou Partnership Agreement. In a framework of respect for universal human rights, this landmark pact reaffirms the EU's willingness to make a significant contribution to poverty eradication, sustainable development and the gradual (regional and global) integration of African Caribbean and Pacific countries into the global economy.
Political and Policy dialogues: The Cotonou Agreement, notably its articles 8 to 13, define the bilateral framework for the political dialogue between Zambia and the EU. Other conventions and political commitments include the Paris Declaration on Aid Effectiveness of 2 March 2005 and its subsequent instruments, the EU-Africa Strategic Partnership, the Country Strategy Paper (CSP) and the National Indicative Programme (NIP) for the period 2008-2013. There are also Zambian strategic documents, in particular the government's manifesto for 2011-2016 – 'A better Zambia for all' , the 2013 Revised Sixth National Development Plan (SNDP, 2013-2016), and National Plans and complementary documents approved by the Zambian Government.
Further dialogue and cooperation between Zambia and the EU involve African Union (AU), the Southern African Development Community (SADC) and the Common Market for Eastern and Southern Africa (COMESA),
Bilateral Cooperation: The bilateral EU-Zambia cooperation strategy is intended to help Zambia further "refine, advance and consolidate" its democratic experience, to put the country on a growth pathway that is economically and environmentally sustainable, and translate its economic growth into development gains for ordinary citizens. It is also supports Zambia inrealise its goals of bringing its income inequality (Gini) coefficient to 40 or less, and its overall poverty headcount to less than 20%. For the period 2008 to 2013, €519 million was made available for this purpose. The European Union and the Government of the Republic of Zambia have agreed to focus the EU's development cooperation primarily on the sectors of regional integration, transport infrastructure, health and agriculture.
Regional cooperation: Zambia is a member of both SADC and COMESA. Under the 11th EDF, SADC, COMESA, the East Africa Community (EAC), the Intergovernmental Authority on Development (IGAD) and the Indian Ocean Commission (IOC) will be covered under the same Regional Indicative Programme (RIP). Assistance will focus on three sectors: i) peace, security and regional stability; ii) regional economic integration; and iii) regional natural resources management. Regional infrastructure receives an allocation (preferably for the joint-financing of projects), as do other regional activities such as migration, wildlife, river and aquifer management, sustainable fisheries (including inland) and maritime security.
Other areas of cooperation: At the request of the Zambian government, an EU electoral observation mission followed the general (legislative and presidential) elections of 2011.
Zambia may also benefit from other funding programmes such as Horizon 2020, the EU programme to promote research and innovation (2014-20) and Erasmus+, which covers projects in the field of training, education, culture, youth and sport. One Zambian student has benefitted from Erasmus+.
Economic and trade relations: As a Least Developed Country (LDC), Zambia benefits from a variety of preferential market access initiatives such as the EU Everything-But-Arms initiative (EBA), under which Zambian goods exported to the EU enjoy duty-free, quota-free treatment. In 2011, Zambia exported circa €500m in goods to Europe and imported close to €400 m from Europe.