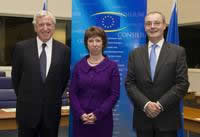 left to right: Pierre Vimont, Catherine Ashton and David O'Sullivan photo©EU
The nomination of two of the senior management team for the European External Action Service (EEAS) on 25 October means that the Service is now firmly en route to becoming an operational diplomatic corps.
High Representative Catherine Ashton nominated Pierre Vimont as Executive Secretary General and David O'Sullivan as Chief Operating Officer following the General Affairs Council in Luxembourg.
The way for nominations was cleared after the European Parliament voted overwhelmingly in favour of the final pieces of legislation needed to make the service operational. Specifically MEPs granted HR Ashton a budget and legal basis enabling her to offer contracts to potential members of the EEAS team. The General Affairs Council then endorsed the decision on 25 October.
'I promised to appoint the brightest and best and in Pierre Vimont as the Executive Secretary General, and David O'Sullivan as Chief Operating Officer, I have done just that,'
said HR Ashton.
'Pierre is held in the highest regard by the diplomatic community and will bring a wealth of knowledge and expertise on foreign policy issues. David has served in the highest capacity in the European Commission, as well as having a diplomatic background. In their respective roles they will help to create a European diplomatic service that the people of Europe can be proud of.'
Pierre Vimont

[31 KB]


has held many senior positions during a career that spans more than 30 years. Roles have included chief for staff for three French Foreign Ministers, Permanent Representative of France to the EU and Ambassador of France to the US.
David O'Sullivan

[49 KB]


began his career in the Irish Department of Foreign Affairs and then moved to the European Commission, where his posts included Director General, head of cabinet for Commission President Romano Prodi and Secretary General of the European Commission.
The remaining EEAS vacancies will be filled in the coming weeks.
Provisional organisation structure of the European External Action Service

21/12/2010
A new step in the setting-up of the EEAS: Transfer of staff on 1 January 2011 21/12/2010
Further Appointments:
06/01/2011
21/12/2010
17/12/2010
14/12/2010
29/10/2010