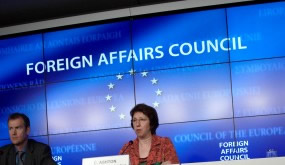 Catherine Ashton at FAC © EU
The historic changes that have occurred in Burma over the last few months were recognised by European Union Foreign Ministers on Monday (23 April) when they agreed to lift some sanctions against the regime.
Catherine Ashton, who chaired the meeting in her capacity as EU High Representative, said that relations between the European Union and Burma were entering a "new chapter". In contrast, the worsening situation in Syria led to European Union Foreign Ministers imposing more sanctions on Damascus. The 27 Ministers were meeting in Luxembourg for their monthly Foreign Affairs Council.
Syria – welcome for UN Resolution and support for Annan Plan
The Council also discussed the ongoing crisis in Syria and welcomed the UN Security Council Resolution establishing a UN supervision mission to monitor the cessation of armed violence. The Council strongly urged the Syrian government to allow the effective operation of the mission and reaffirmed its full support to Special Envoy Kofi Annan and his six-point plan. In view of the gravity of the situation, the Ministers approved further sanctions against the Syrian regime. At her press conference Catherine Ashton stressed the humanitarian aid the EU was giving to countries that were receiving refugees from the fighting.
Mali – support for restoration of order
In the yesterday's meeting Foreign Ministers also discussed recent events in several African countries. They expressed their support for the efforts of the Economic Community of West African States (ECOWAS) to restore constitutional order in Mali and the EU's intention to closely monitor progress in the transition process. The Council confirmed the importance of accelerated implementation of the EU strategy for security and development in the Sahel and the deployment of the proposed civilian Common Security Defence Policy (CSDP) mission to Niger.
Sudan and South Sudan
The Council also expressed its deep concern about the escalating conflict between Sudan and South Sudan and called on both governments to stop attacks on each other's territory and cease hostilities. The High Representative Ashton described the current state in Sudan and South Sudan as a "grave situation".
Finally, the Council strongly condemned the coup d'état in Guinea-Bissau. It demanded the immediate reestablishment of the legitimate government and showed itself ready to impose restrictive measures against individuals who engage in acts that threaten the peace, security and stability of Guinea-Bissau.
During lunch, ministers first exchanged views on recent developments in the Middle East Peace Process and the situation in the occupied Palestinian territory. Later the High Representative briefed ministers concerning the talks with Iran on its nuclear programme.