© EU
Every minute eight people around the world are forced to flee war, persecution or terror.
"Today, on the World Refugee Day, our thoughts are, more than ever, with the millions of women, children and men, around the world who are forced to flee their home countries because of war, conflict, or persecution. This is still a reality in today's world."
- Joint Statement by EU High Representative Catherine Ashton and EU Commissioner for Home Affairs Cecilia Malmström.
20 June marks World Refugee Day dedicated to raising awareness of the situation of refugees throughout the world.
World Refugee Day came about following the United Nations General Assembly, on 4 December 2000. On this day the UN adopted Resolution 55/76 where it was noted that 2001 marked the 50th anniversary of the 1951 Convention relating to the Status of Refugees, and that the Organization of African Unity (OAU) had agreed to have International Refugee Day coincide with Africa Refugee Day which had been formally celebrated in several countries prior to 2000.
From June 18 to 20 the United Nations Refugee Agency (UNHCR) commemorates World Refugee Day in Washington, DC, in order to draw the public's attention to the millions of refugees worldwide who are forced to leave everything behind to escape war. Each year, UNHCR selects a theme and coordinates events across the globe.
This year's global campaign, "Dilemmas" is a development of the award-winning campaign launched last year. It depicts some of the tough choices facing refugees, and aims to help fight intolerance and xenophobia against refugees, encouraging the public to empathize with and understand their dilemma instead.
"We must work together to mobilize the political will and leadership to prevent and end the conflicts that trigger refugee flows. [...] Despite budget constraints everywhere, we must not turn away from those in need. Refugees leave because they have no choice. We must choose to help." - UN Secretary-General Ban Ki-Moon
UNHCR Special Envoy Angelina Jolie and a number of other celebrities echo the same strong message: No one chooses to be a refugee. See the video here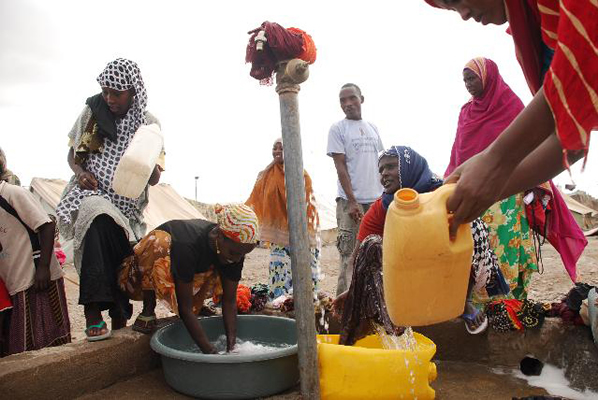 © EU
What is the difference between a Refugee and an Internally Displaced Person?
A refugee is someone who has been forced to flee his or her home country and is unable or unwilling to return due to fear of persecution.
An internally displaced person (IDP) is someone who was forced to flee his/her home but who did not cross a state border. IDPs benefit from the legal protection of international human rights law and, in armed conflict, international humanitarian law. However, IDPs do not benefit from the specialised protection of international refugee law. National governments have the primary responsibility for the security and well-being of all displaced people on their territory, but often they are unable or unwilling to comply with this obligation.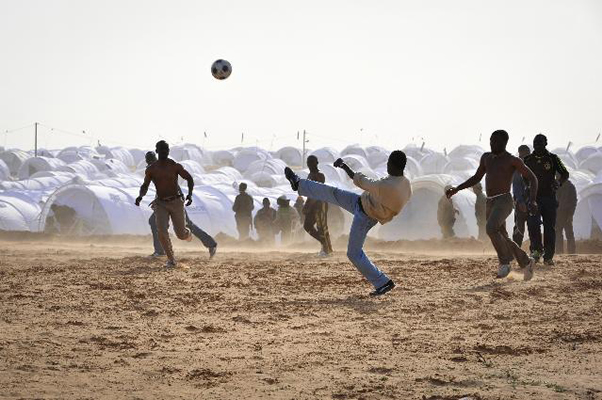 © EU
What is the EU doing?
The EU27 Member States granted protection to 84 100 asylum seekers in 2011. The largest groups of beneficiaries of protection status in the EU27 were citizens of Afghanistan (13 300 persons or 16% of the total number of persons granted protection status), Iraq (9 000 or 11%) and Somalia (8 900 or 11%).The results of asylum decisions in the EU27 are released by Eurostat, the statistical office of the European Union on the occasion of the World Refugee Day.
The European Commission focuses substantial humanitarian resources to help refugees. It allocates around 15% of its annual humanitarian aid budget (which exceeds 1 billion EUR) to projects which support refugees and IDPs.
Humanitarian aid delivered by the Commission helps:
address the root causes for migration
meet the most pressing needs of refugees and IDPs
support and protect refugees and IDPs during their displacement and when returning to their place of origin
strengthen the capacities of the humanitarian organisations which specialise on helping refugees
The Commission focuses its support on organisations dealing with migrants, refugees and IDPs including the UNHCR, the International Organisation for Migration, the Red Cross and Red Crescent family and non-governmental organisations.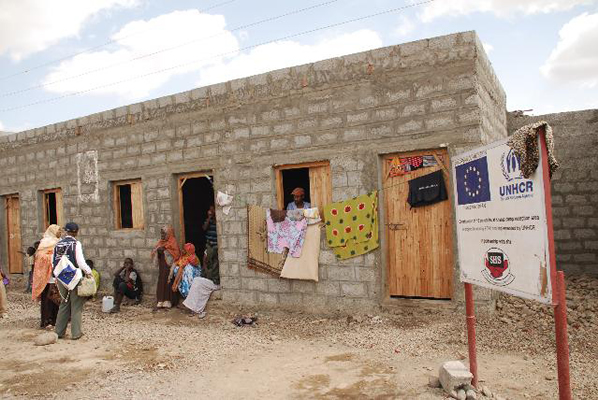 © EU
Example
Between 1.5 and 3 million people are affected by the violence in Syria, while the entire civilian population is suffering from shortages of both food and fuel. Over 87,000 people have already fled the country and are being hosted and protected by neighbouring countries, mainly Turkey, Lebanon and Jordan and Iraq. Host countries have been working to meet the most basic needs of refugees and to ensure minimum protection. However, none of the fleeing Syrians has been granted full refugee status, therefore depriving them of long term solutions.
On the situation in Syria, Ashton and Malmström said: "We are gravely concerned about the plight of refugees fleeing the violence in Syria. The EU, in close co-operation with its partners, is providing significant humanitarian and other assistance to these refugees, and will throw its weight behind all efforts to ensure the protection of the victims of this conflict."
While visiting Syrian refugees at a camp in Kilis in Turkey on the occasion of World Refugee Day, Commissioner for International Cooperation, Humanitarian Aid and Crisis Response, Kristalina Georgieva, announced that the European Commission is increasing its humanitarian aid by EUR 10 million for those affected by the escalating violence in Syria.
Commissioner Georgieva said: "At this desperate time my thoughts are with all those people who are suffering grievously as a result of the indiscriminate violence taking place in Syria. A lingering civil war beckons and I expect the scale of the humanitarian challenges to rise dramatically. We will continue to stand with the innocent victims of violence and today I repeat my call to all the parties to the fighting to spare human life, respect human rights and to afford all protection and assistance to those who are trying to provide relief to the most vulnerable."
Georgieva also gives regard to several innocent people from other nations who find themselves far from their homes, hungry and fearful. "From Myanmar to Congo the fate of refugees is merely glimpsed by those of us fortunate to live in comfort and security. Let us reflect upon the generosity of countries such as Yemen, which hosts hundreds of thousands of African refugees yet is one of the world's poorest countries with dire humanitarian needs itself."
"It is a shining example to all of us of the indomitable human spirit of solidarity which reaches out to less fortunate souls in their hour of need."
Watch the video by DG ECHO: World Refugee Day - We all need a home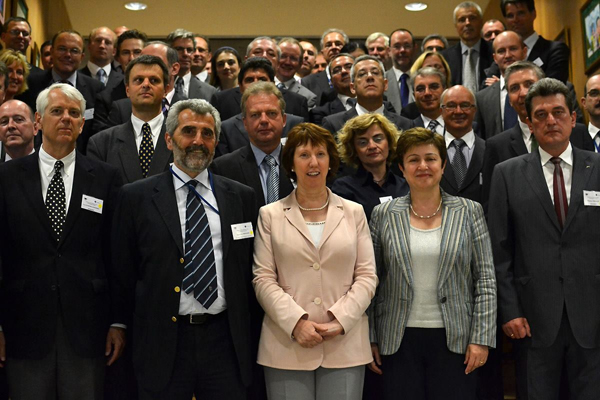 Catherine Ashton with Commissioner Georgieva - Conference for National Crisis Coordination Centre © EU
What can YOU do?
In tune with UNHCR's theme for this year, Refugees have no choice. You do.
Take Action!
Click here to see how you can help.
Experience life as a refugee:
The smartphone app, built for iOS and Android, 'MY LIFE AS A REFUGEE' is a role-playing game that forces players to face the same life-changing decisions refugees make in a true-to-life quest to try to survive, reach safety, reunite with loved ones and re-start their lives. Click here for more info on downloading the app.
Links: