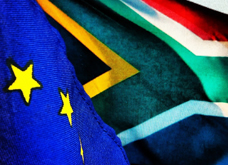 © EU
The 5th European Union-South Africa Summit took place today in Brussels.
The EU was represented by the President of the European Council, Herman Van Rompuy, and the President of the European Commission, José Manuel Barroso. The Republic of South Africa was represented by President Jacob Zuma.
Commissioners for Trade Karel de Gucht, for Development Andris Piebalgs and for Research, Innovation and Science Máire Geoghegan-Quinn also attended the Summit on the European side. Foreign Minister Nkoana-Mashabane, as well as the ministers for Trade, Finance, Science & Technology, Energy, and Transport accompanied President Zuma on the South African side.
The Summit provided an opportunity to strengthen the EU-South Africa strategic partnership and to discuss key issues such as the global economic situation, climate change, trade, development cooperation and peace and security issues in Africa and the Middle East.
Following the Summit, Presidents Zuma, Van Rompuy and Barroso issued a joint declaration which reaffirmed their 'commitment to a strategic partnership based on shared values and interests, including the promotion of peace and security, human rights, democracy, the rule of law and inclusive sustainable development across our regions'.
Through their Partnership for Peace and Democracy, they agreed on the need for both the EU and South Africa to provide joint leadership to prevent and resolve conflicts in the region and strengthen their partnership in the area of peace and security. They recalled their full support to advance negotiations of an Arms Trade Treaty (ATT) and welcomed the formalization of bilateral human rights consultations.
In the context of their Partnership for Prosperity, leaders agreed on the need to contribute to accelerate global economic recovery working with the G-20 and other international partners, as well as to close cooperation to tackle critical global issues such as climate change, environmental degradation, energy and resource security, major infectious diseases and massive natural disasters, and to consolidate their partnership to stimulate growth and employment.
Finally, under the People's Partnership, they committed to foster people to people ties and to consolidate the partnership to the benefits of their respective peoples, regions and the world.
Background
The EU-South Africa strategic partnership A strong relationship has evolved between the European Union and South Africa since the advent of democracy in South Africa in 1994. A Trade, Development and Cooperation Agreement (TDCA) was signed in 1999 and later consolidated with the establishment of a Strategic Partnership in 2007.
Cooperation in science and technology Marking the fifteenth anniversary of the entry into force of the EU-South Africa agreement on science and technology, South Africa is the fifth most active third country partner. Researchers are involved in 64 projects in fields like health, environment, aviation, food, biotechnologies and Information and Communications Technology (ICT).
Trade and Development cooperation The EU is South Africa's main trading partner (28% of total exports), the first foreign investor in the country (77.5% of Foreign Direct Investment) and its most important development partner (70% of all external assistance). For more information: