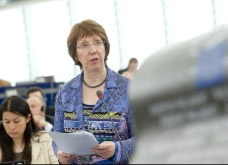 Catherine Ashton at EP Plenary session 17th April © EU 2012
The highlight of this week in European Foreign policy has probably been the first day of the plenary session at the European Parliament in Strasbourg. Indeed the whole evening of 17 April was dedicated to foreign policy debates between Members of Parliament and High Representative/Vice President Catherine Ashton.
Topical foreign policies such as Argentina, Mali, Syria and Burma were addressed as well as the report on human rights in the world and the European Union's policy in this field. Catherine Ashton opened the plenary session with a strong political statement on Argentina's decision to expropriate the majority stake held by Repsol in YPF.
She said that "last night the Argentinean Government announced that it intends to expropriate the majority stake held by the Spanish company Repsol in the YPF energy company. This announcement is cause for grave concern. YPF is an important European Union investment in Argentina. A takeover sends a very negative signal to international investors and it could seriously harm the business environment in Argentina. "
She went on to say that "the measure creates legal insecurity for all European Union and foreign firms in the country. I am also alarmed to note that the President referred, in her speech, to investments in other sectors such as telecoms and banking."
She also added that "this announcement adds to a number of problematic decisions taken by Argentina over the past few years in the areas of import restrictions and investment policy. The Government of Argentina must ensure compliance with its international commitments on the treatment and protection of investments originating from the European Union."
Human Rights: Women's Rights and anti-discrimination key
Mrs Ashton began her speech by turning to the report by British Labour MEP Richard Howitt which dealt with the EU and Human Rights. She praised the report for fin consensus across the political spectrum in the European Parliament.
She went on to say that "while we may sometimes disagree about how best to champion the respect for human rights globally, we stand united in our aim: to see a freer world, where people's dignity is respected – wherever they may be from– and for the EU, and the External Action Service in particular, to play a key role in supporting people's struggle for their rights."
In particular the High Representative pointed out: "Throughout the Middle East and North Africa, men and women, young and old, representing the whole of society, have found the courage within themselves to assert their fundamental human rights. Some of them gave their lives for freedom, dignity and a better future. I should like to pay tribute to them now."
Turning to the future of EU policy on human rights she said: "My Communication of last December was designed as a contribution to the ongoing discussion within and between the EU institutions on a more effective and comprehensive approach to human rights and democracy. Work is in hand to pave the way for appointment of a Special Representative for Human Rights as part of a package to put into practice the Joint Communication. It is important that this person be somebody with a strong track record and on in international human rights."
Mali – call for return of legitimate Government
On the situation in Mali, Catherine Ashton told MEPs "I condemned the seizure of power by the military in Mali on 22nd March and called for the re-establishment of legitimate government and the holding of elections as soon as possible.
She noted that "the Foreign Affairs Council of 23 March strongly supported the efforts of the Economic Community of West African States (ECOWAS) to restore constitutional and democratic government in Mali. And our development cooperation with Mali was immediately put on hold. This did not affect humanitarian aid, nor any projects directly working and helping the people".
She also pledged humanitarian support saying "overall there are now over 200,000 persons displaced internally within Mali and more than 140,000 are estimated to have fled to neighbouring countries. For 2012 we have increased our humanitarian aid budget for the Sahel from 45 million euro to 105 million. Across Mauritania, Niger, Chad, Mali and Burkina Faso the Commission is implementing over 250 million euro in humanitarian aid and food security actions for an estimated population of 50 million people".
She finished by saying "the EU remains committed to the preservation of the unity and sovereignty of Mali. It will remain in close contact with the new interim authorities in Bamako to define the concrete assistance in all the different fields: food, election process, security, and so on that it can provide. "
Syria: "absolutely appalled by violence"
On Syria Mrs Ashton reiterated how "we are all absolutely appalled by the horrendous levels of violence we have witnessed in Syria. Regime forces have bombarded cities with no regard for civilians. Violence has not spared children. We all want, above everything, the violence and killings to stop and we are all extremely concerned by the potential for further militarization and escalation of the conflict. The increased violence that we saw leading to the ceasefire deadline of 12 April was unacceptable and the reports about shelling in the city of Homs and civilians killed in Hama & Deraa are extremely disturbing. Violence has abated but it is not enough. "
She went on to say that "once again, I urge, in the strongest possible terms that the cessation of violence is real and that Kofi Annan's plan is implemented immediately and in its entirety."
She pointed out that the UN Security Council adopted unanimously – and I emphasise the unanimity - on Saturday a resolution approving the immediate deployment of an advance team of up to 30 military observers to Syria to begin reporting on the implementation of a full cessation of armed violence.
She went on to say that "together with our EU representatives at the UNSC – to whom I pay tribute for their work and engagement - and all our Member States, I have spared no effort to ensure that the international community speaks with one voice."
She finished by saying "a final word on the engagement with the Syrian opposition groups, a critical issue where the EP has a special role to play. Our main objective remains to encourage all opposition groups to put aside their differences and work jointly towards a stronger coordination and agree on the way forward for an orderly transition that is inclusive and democratic. "
Burma / Myanmar: "dramatic and hopeful changes"
Turning to Burma/Myanmar the High Representative assessed positively the recent by elections in Burma of 1 April. The European Parliament, which concluded an official mission to Myanmar recently, was represented in the EU election observation team, which demonstrated the coherence of the European Union. Catherine Ashton told MEPs she would travel to Burma at the end of the month and that the EU would support the reform process. She noted that "after decades of internal repression, we see dramatic and hopeful changes taking place in Burma. Here is a democratic transition unfolding in a peaceful, collaborative fashion – acclaimed by the domestic electorate and the international community. This is such a rare case".
Catherine Ashton went on to say: "Everything we see points to a Government which is serious about change and wants to end its country's isolation. President U Thein Sein shows courage and leadership. It would be a surprise if he did not face resistance from some who have profited from the old system. Most importantly, Daw Aung San Suu Kyi and the President have established a relationship of trust."
However she warned of a long road ahead: "There is so much to do that the process of reform will inevitably take time. There are problems with human rights, problems with macroeconomic management, problems with health, education, energy. It is hard to know where to start. But I believe that President U Thein Sein has made a wise choice by beginning with the political problems. Securing ethnic peace is perhaps the most important and most immediate challenge. But, here too, an effort that brings together all political forces can make a real difference."
She finished by saying "let me express the hope that Aung San Suu Kyi will soon be able to come to this Parliament to receive the Sakharov prize she was awarded 21 years ago".
Links