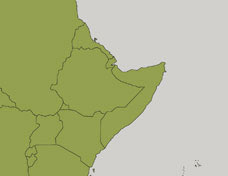 Map showing the Horn of Africa © EU
Foreign Ministers agree Strategic Framework for supporting democracy, development – and security – in Somalia and the region. A new Special Representative will focus first on regional conflict, and the threat of piracy.
The EU has stepped up its longstanding engagement in eight countries* in the Horn of Africa, concentrating its efforts to address the fragility of a region still beset by poverty and conflict, and vulnerable to the effects of climate change and migration. Few regions in Africa offer such a diverse picture of potential and threats. Both reasons advocate for a stronger EU interest. In 2011 the challenges faced by the region have been compounded by widespread famine, and the continued insecurity caused by Somali pirates operating in the Gulf of Aden and the Indian Ocean.
The EU is already heavily engaged in the region, with more than €2.5 billion of development assistance funding committed for the period 2008-13. The EU has also responded to specific crises – with more than €760 million of humanitarian assistance, and with its anti-piracy naval mission to protect World Food Programme and African Union Mission AMISOM shipping. Longer-term and more sustainable actions are underway in building EU-Africa trade relations, and in regular national and regional political dialogues, with shared targets.
The EU now seeks to focus and intensify this engagement, recognising the significance of the region, and the contagion of instability within and beyond its borders. In responding to the inter-connectedness of the problems faced in the Horn of Africa, it can bring a more regional and coherent EU response, using all of the tools as its disposal. An EU Special Representative has already been appointed for Sudan and South Sudan, and will soon be joined by another for the wider Horn of Africa region. EU assistance programmes will focus on building democratic and accountable state structures, working with international partners both to respond to crises and to address the underlying causes of instability, streamlining support for economic development, and deepening cooperation with the Inter-Governmental Authority for Development, IGAD, as well as the African Union, the East African Community, EAC, the Common Market for Eastern and Southern Africa, COMESA, and the United Nations and its agencies.
New programmes will strengthen drought preparedness, agriculture, rural development and food security. The EU remains committed to its naval mission EUNAVFOR Atalanta, and will continue to strengthen regional maritime defence capacity, and increase the levels of prosecution and detention of pirates. Despite such practical measures, only a political solution can bring order to Somalia, the heart of regional instability, and the EU will continue to support efforts to reach one.
*Djibouti, Eritrea, Ethiopia, Kenya, Somalia, Sudan, South Sudan, Uganda