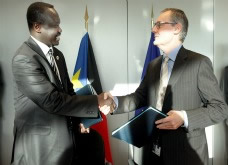 Dr. Francis Nazario with Mr. David O' Sullivan © EU
Today (09.12.2011), an Establishment Agreement between the European Union and the Republic of South Sudan was signed.
South Sudan is the newest country in the world and today's agreement marks a significant step in its development and recognition on the global stage.
European External Action Service Chief Operating Officer Mr David O'Sullivan signed the agreement on behalf of the EU. Dr Francis Nazario, Head of the Embassy of South Sudan to the Kingdom of Belgium and the EU, signed on behalf of South Sudan.
Establishing formal diplomatic relations between the EU and the Republic of South Sudan, the agreement lays the foundations for a long and productive relationship.
The reciprocal agreement also allows for recognition of both the South Sudan Embassy to the EU and the EU Delegation in Juba. A decision to open the Delegation in Juba was taken by the High Representative/Vice-President of the European Commission Catherine Ashton in early November 2011, following agreement by the European Council and the Commission.
The EU Delegation will help channel EU development aid to South Sudan. In July 2010, the Council adopted a proposal to provide €85 million for South Sudan. This was followed up in May 2011 with a further €200 million as part of a substantial development and aid package, in advance of the South Sudan declaring its independence in July 2011.
The EU's development aid for South Sudan will focus on five priority areas: the rule of law, health, education, water management, and food security.
HR/VP Catherine Ashton appointed Sven Kuehn von Burgsdorff as the Head of the EU Delegation to South Sudan on 02.12.2011.