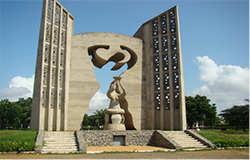 Togo: National Independence Monument in Lomé
EU-Togo relations
Political, trade and cooperation relations between the EU and Togo are based on the ACP-EU Partnership Agreement (The Cotonou Agreement), signed in 2000 and revised in 2005 and 2010. The EU and Togo have regular political dialogues that cover a wide range of issues – regional, political, trade, development and governance – including human rights.
As a least developed country (LDC), Togo benefits from full duty-free and quota-free access to the EU market for all of its exports, with the exception of arms and armaments (under the 'Everything But Arms' arrangement).
The EU and West Africa initialled a regional Economic Partnership Agreement (EPA) in June 2014. Signature and ratification are ongoing. The agreement will regulate trade between the EU and Togo when it enters into force.
The overall priorities in EU-Togo bilateral cooperation under the 10th European Development Fund (EDF), as set out in the Country Strategy Paper 2008-2013

, are:
governance and support for economic and institutional reforms;
support for economic recovery through infrastructure development;
cancelling of payment arrears on external debt (macroeconomic support).
Programmes funded under the 10th EDF are ongoing. Overall EU assistance to Togo between 2008 and 2013 was around €168m.