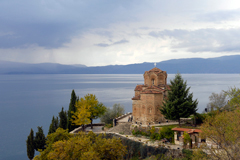 Church of Saint John at Kaneo, Ohrid
The former Yugoslav Republic of Macedonia was granted candidate country status for EU membership in 2005. Three years later, an Accession Partnership was signed, laying out in detail the principles and priorities for the country's accession preparations.
Work is underway to make short stays in the EU easier for citizens of the former Yugoslav Republic of Macedonia – in July 2009 the European Commission proposed granting visa liberalisation.
A Stabilisation and Association Agreement (SAA) laying out the conditions for EU membership came and into force in April 2004.