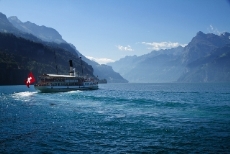 Photo: swiss-image.ch / Beat Müller
EU-Swiss relations
Close ties
Through a wide range of agreements, the EU has closer ties with Switzerland than with any other non-European Economic Area (EEA) country. Switzerland is the EU's 4th largest trading partner, while the EU is Switzerland's largest. Over 1 million EU citizens live in Switzerland, and another 230 000 cross the border daily to go to work. Some 430 000 Swiss citizens live in the EU.
EU-Swiss trade
Switzerland's economic and trade relations with the EU are governed by the free trade agreement

[476 KB] signed in 1972 and extended in 1999 to trade in agricultural products and to processed agricultural products in 2004. Other agreements on state that each party must recognise the other's product standards (Mutual Recognition of Conformity Assessment

) and rules on purchasing by public authorities (Public Procurement

[152 KB] ).
The EU accounts for 64.7% of Switzerland's foreign trade while Switzerland accounts for 7.7% of the EU's foreign trade.
| | | |
| --- | --- | --- |
| 2012 | Absolute value (EUR bn) | Percentage of total |
| EU imports from Switzerland (goods) | 104.5 | 5.8% |
| EU exports to Switzerland (goods) | 133.7 | 7.9% |
Swiss involvement in EU programmes
Switzerland has taken part in the following programmes:
the EU Framework Programme for Research
the EU MEDIA programme
Youth in Action
Lifelong Learning
It was associated with the 7th Framework Programme for Research and Development.
In 2014, it will be taking part in the Erasmus+ exchange programme and in the Horizon 2020

research programme as a non-EU country without associate status.
Travel, residence & work
In 1999 the EU and Switzerland signed an agreement on freedom of movement

[290 KB] under which each gave the other's citizens the right to enter, live and work in its territory.
Switzerland is an associate member of Europe's border-free Schengen area

and a full participant in the Dublin system for dealing with asylum claims.
The EU and Switzerland also have agreements under which each allows the other access to the other's market in
Swiss participation in EU foreign policy missions & operations
Switzerland takes part under ad hoc agreements in some EU mission and operations for civilian crisis management (EULEX Kosovo, EUFOR ALTHEA and EUTM Mali).
EU Council conclusions
In its remarks on relations with EFTA, the EU Council has repeatedly commented on EU-Swiss relations: