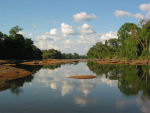 Suriname
Suriname is a sovereign, stable and democratic state with a population of 0.487 million and a per capita GDP of $7,722 PPP US$ (source UNDP – HDR 2007-8).
Suriname is a presidential democracy. Four peaceful changes government since restoration of democracy in 1991. The President Venetiaan took office for his third, second consecutive, term in 2005. Elections are scheduled for 2010.
The economy of Suriname in evaluated as relatively good, with a stable currency, low core inflation significant FDI and stable prices for principal export commodities – aluminium, oil and gold. Fiscal accounts moved into surplus since 2006, and the heavy impact of the global economic crisis has yet to hit, partly thanks to increases in the gold prices.
Suriname has signed up to the PetroCaribe initiative. Health sector suffers from reduced quality due to high rate of emigration of trained health professionals. Nevertheless, health indicators are comparable with its Caribbean neighbours.
Key issues in EU-Suriname relations
Total EC assistance to Suriname since independence in 1975 can be estimated at € 165 M. This does not include benefits from regional programmes, trade preferences and protocols. The main areas of EC co-operation have been: The transport sector (60% of all EDF funding); Micro projects; Rice sector; Banana sector (SFA); Private sector; Environmental management; Good Governance and Democracy.
The transport sector is the focal sector of the EC Country Support Strategy (CSP) under the 9th EDF NIP. In agreeing to this, the EC emphasised the importance of continued regular maintenance of infrastructures.
Under the 10th EDF, the EC contributes to the Government's objectives, namely poverty reduction, sustained income base and equitable access to services. This is done through maintaining the transport sector as the focal sector for the 10 th EDF complementing programmes of other development partners, and targeting the specific objective is improved connectivity, flow of goods and persons within Suriname and between Suriname and its neighbours, and increased trade with neighbouring countries.