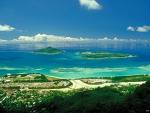 Seychelles
Since 1977 the Seychelles have received some €25 million in development aid from the European Community under successive European Development Funds, covering various sectors, from the environment and rural development to health. From mid 1990s, a specific focus was put on the environment sector, with support provided for a solid waste disposal facility on Mahé. Several private–public sector initiatives were also initiated, and reconstruction support was provided in the wake of the 2004 tsunami.
The objective of the European Community strategy for 2008-2013 is to support the Seychelles' transition towards sustainable growth by reinforcing the environment sector and improving capacities with regard to governance, including economic and environmental management (Country Strategy Paper for Seychelles for the 10th EDF

). The support is provided through the General Budget Support mechanism. The total amount available is €11.4 million
The EU also has a Fisheries Partnership Agreement with the Seychelles to help promote sustainable use, good governance and sectoral support to the fishing industry. The current Protocol implementing the Agreement is in force until January 2014 with funding amounting to €16.8 million.