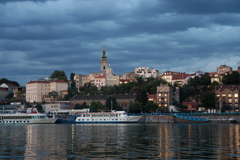 Waterfront and town © EC
Serbia is a candidate country for EU membership as of 2012.
Several agreements ensure close collaboration with the EU. A European partnership with Serbia provides support to the Serbian authorities by identifying areas where further reforms are required.
On 29 April 2008, the EU and Serbia signed a Stabilisation and Association Agreement (SAA)

, setting out a framework for cooperation.
Travel to the EU became easier for citizens of Serbia in 2009 when a visa liberalisation agreement

entered into force.