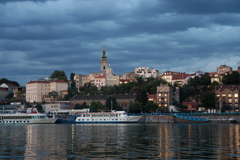 Waterfront and town © EC
In December 2009 Serbian citizens were granted the right to travel without a visa to the Schengen Area. Serbia applied for EU membership in the same month.
The EU facilitates dialogue between Belgrade and Pristina, with the aim of
promoting cooperation;
achieving progress on the path to the European Union;
improving people's lives.
Since October 2012, High Representative Catherine Ashton has been personally involved in facilitating a High-Level Dialogue between Belgrade and Pristina which resulted in the historic "First agreement of principles governing the normalisation of relations" reached on 19 April 2013. This agreement and its implementation are a breakthrough in relations between both sides and led to concrete changes on the ground.
In June 2013, the European Council decided to start membership negotiations with Serbia.
In September 2013 the Stabilisation and Association Agreement

(SAA) - a comprehensive contractual framework between Serbia and the EU – entered into force.
In January 2014 the EU and Serbia held their 1st Intergovernmental Conference, thereby formally starting accession negotiations.
The European Commission issues an annual Progress Reportassessing Serbia's progress towards EU accession.
For further information, see: