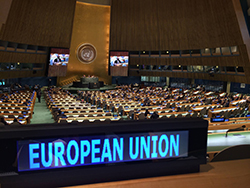 The EU participates in the work of the UN General Assembly - EU nameplate in the UN General Assembly hall
The United Nations are a key EU partner and an indispensable global forum for tackling global challenges.
Effective multilateralism
The EU is committed to effective multilateralism, with the United Nations at its core. Based on this commitment, the EU and its Member States engage constructively at the UN as an intergovernmental forum, together with partners and like-minded countries, to shape responses to issues of global concern and international law, and of importance to European citizens. Furthermore, the EU works closely with the UN Secretariat, the various UN Agencies, Funds and Programmes. The EU has hence established a broad relationship with the UN on issues ranging from development and climate change to conflict prevention, crisis management and peacebuilding, human rights, humanitarian assistance, the fight against corruption and crime, global health concerns such as AIDS/HIV or Ebola and issues of labour rights.
The EU's participation at the UN
The Lisbon Treaty gave the European Union a single legal personality. It also provided for the EU to replace and succeed the European Community, taking over all its rights and obligations, including with regard to its status within the UN. As a result, the EU can sign contracts, be part of an international convention or be an observer (most cases) or member of an international organisation – where the statutes allow this, such as the FAO in Rome.
In May 2011 the UN General Assembly granted the European Union new participating rights, allowing EU representatives to present EU agreed common positions, to make interventions, present proposals and circulate EU communications as official documents at the General Assembly.
Security Council
Two EU Member States, France and the UK, are permanent members of the Security Council. In addition, EU countries also serve as non-permanent members. They keep the EU institutions and other Member States fully informed of the work of the Council and, as appropriate, reflect EU positions. In addition, the EU has a wide range of tools available to solve crises, as well as its close work with international and regional partners. For this reason, the EU High Representative for Foreign Affairs and Security Policy provides regular updates to the Security Council and the EU is often invited to address issues of concern.
The Security Council has welcomed the extensive cooperation between the UN and the EU.