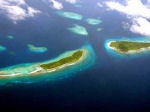 Aerial view of Micronesia ©EU
The Federated States of Micronesia (FSM) joined the African Caribbean Pacific group in 2000. Since then about €17m have been allocated from the EU.
Political dialogue
The EU's political dialogue with Micronesia focuses on:
protecting its vulnerable environment, especially in relation to climate change
defending human rights and gender issues.
The EU and Micronesia are discussing how to collaborate more closely in multilateral fora on these and other issues.
Aid and cooperation
Under the Cotonou Agreement and following the Country Strategy Paper

, FSM benefits from the 10th European Development Fund, with a total budget of €8.3m for 2008-13.
EU assistance and cooperation focuses on:
sustainable energy - addressing regional imbalances, reducing costs and contributing to a cleaner environment (one of FSM's most importance resources) by providing cost-effective and reliable renewable energy, and promoting energy efficiency and self-sufficiency
disaster risk reduction – early warning system and renovated disaster coordination centres
fisheries – the EU–FSM Fisheries Partnership Agreement came into force in 2007, and in 2010 a new 5-year protocol was signed with a yearly financial contribution fixed at €559,000.
environmental issues – FSM is composed of low-lying islands which are extremely vulnerable to changes in ocean levels. The EU acknowledges the serious threat climate change poses to FSM in view of its low-lying terrain and encourages the country's efforts to conserve its environment
conservation – an active player in climate change negotiations, FSM, along with Palau and the Republic of Marshall Islands, launched the Micronesia Challenge to effectively conserve 30% of near-shore marine resources and 20% of forest resources by 2020.
The EU is ready to assist FSM to become eligible for Budget Support as a possible financing option.
Regarding gender issues, the EU stands ready to assist FSM to improve the proportion of women political representatives at all levels.