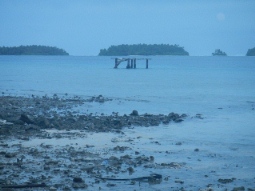 Marshall Islands, ©EU
The Republic of Marshall Islands (RMI) joined the African Caribbean Pacific group in 2000. Under the Cotonou Agreement, about €11.45m have been provided under the 9th and 10th European Development Fund (EDF) - almost entirely for sustainable energy, but also for disaster preparedness.
Political dialogue
The EU's political dialogue with the Marshall Islands focuses on:
protecting its vulnerable environment, especially in relation to climate change
defending human rights and gender issues.
The EU and the Marshall Islands are discussing how to collaborate more closely in multilateral fora on these and other issues.
Aid and cooperation
Under the 10th EDF (2008–13), RMI and the European Union signed a new Country Strategy Paper

with a total budget of €5.8m. The main focus areas for EU assistance and cooperation are:
The EU acknowledges the serious threat climate change poses to RMI in view of its low-lying terrain and encourages the country's efforts to conserve its environment. In addition, the EU is ready to assist RMI to become eligible for Budget Support as a possible financing option.