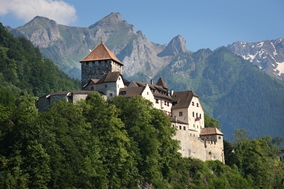 Vaduz, © Information und Kommunikation der Regierung, Vaduz
European Economic Area (EEA)
Liechtenstein joined the EEA in 1995. The EEA Agreement covers most aspects of its relations with the EU, including:
the EU single market – all relevant laws, except those dealing with agriculture and fisheries, apply to Liechtenstein
EU Agencies and programmes – Liechtenstein participates in a number of them, albeit with no voting rights
social & economic cohesion in the EU/EEA – Liechtenstein contributes financially
regular political dialogue on foreign policy issues at ministerial and expert level
Travel (and asylum)
Since December 2011, Liechtenstein has been an associate member of Europe's border-free Schengen area and fully participates in the Dublin system for dealing with asylum claims.
Foreign policy
Liechtenstein generally supports the EU's foreign policy and aligns itself with relevant EU measures.
Taxes & duties
The EU has bilateral agreements with Liechtenstein on taxation of savings

. Negotiations on EU-Liechtenstein co-operation on combating fraud and exchange of information on tax matters are ongoing.
Relations with Switzerland
Liechtenstein has had a customs and monetary union with Switzerland since 1924 and is strongly integrated in the Swiss economy.
EU-EFTA reports - EU Council conclusions
The main issues under EU-Liechtenstein relations are outlined in the Council Conclusions below. The 2012 conclusions will be adopted by the end of 2012.
2008 conclusions on EU-EFTA relations


2010 conclusions on EU-EFTA relations


2012 conclusions on EU-EFTA relations

[127 KB]
2012 EEA Council conclusions

[95 KB]