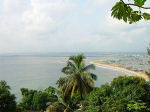 Liberia
Political relations
Relations between the EU and Liberia are built on the EU's partnership agreement with ACP countries – the Cotonou Agreement. Liberia has regular talks with the EU on a wide range of issues – regional, political, trade, development, governance, human rights, etc.
Development aid
EU development aid to Liberia is paid through the European Development Fund (EDF). In 2008-13, the country received €223.8m to rehabilitate its basic infrastructure/social services and improve governance – implemented according to the EU strategy paper for Liberia

.
Trade
As one of the UN-defined least developed countries, Liberia benefits from full duty and quota-free access to the EU market for all exports except arms/armaments – under the EU's preferential access scheme, Everything But Arms.
It is also included in the regional Economic Partnership Agreement with West Africa, currently being concluded by the EU.
Forestry
In 2013, Liberia's Voluntary Partnership Agreement with the EU – under the FLEGT forestry protection initiative – came into force. This aims to improve forest governance and ensure timber exports to Europe are legal and from a certified country of origin.