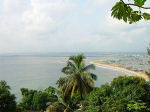 Liberia
After 14 years of civil war, which brought marginalisation and economic collapse, Liberia is experiencing a period of political stability, supported by a large contingent of UN troops to maintain security. Liberia´s president Ellen Johnson Sirleaf, Africa 's first female elected head of state, is pursuing a deep- rooted reform agenda under which the country has embarked on the difficult task of reconstructing a war-damaged society.
Despite abundant natural resources, bad governance has perennially engendered poverty, conflicts, and low human development. In 2009, Liberia had a human development index of 0.442, ranked 169th out of 182 countries in the world. Access to modern health services is estimated at 41%, and illiteracy, illustrated by an adult rate of only 57.9% (62% of women compared to 29% of men) remain to be resolved among other pressing social issues. While GDP grew constantly since the end of the conflict, it ha snot yet reached its pre-war levels. Liberia remains one of the world poorest nations with estimated two-thirds of Liberians living below the poverty line, which is on less than one dollar per day.
The country's needs are enormous but donors are few, even if the interest is increasing at European and international level. National revenues are limited and the capacity is in short supply given the post-conflict setting.
Key issues in EU-Liberia relations
Against this background and in line with the Liberia's development policy and the EU Strategy for Africa, EU Cooperation strategy under the 10th EDF (European Development Fund 2008-2013) is based on a flexible approach of Linking Relief Rehabilitation and Development (LRRD) in the context of Post-Conflict Fragile States.
The overall amount of € 150 M is being implemented through 3 main areas of intervention:
(1) LRRD in a post-conflict fragile state, with funds allocated totalling € 145 M within two main components: i) Rehabilitation of Priority/Basic Infrastructure (roads, electricity and water) and the provision of basic social services (education and healthcare) - € 104.8 M; ii) Governance, Institutional Support and Capacity-Building Cross-Cutting Programme (€ 20 M).
(2) general budget support, € 20.2 M
(3) non-focal sector, € 5 M , comprising actions intended to strengthen the current and future capacity of the Ministry of Planning and Economic Affairs and non-state actors/civil society.
Representation
The long awaited upgrading of the Monrovia office to a fully-fledged EU delegation took place in 2009. Increased staffing, which accompanied the upgrading of the delegation accelerated significantly the implementation of the EU cooperation under both 9th and 10th EDF. The EU was the only donor which maintained its presence in Liberia throughout the civil war.
Natural resources
While every conflict needs certain resources to be fuelled from, the one in Liberia lived on ramping Liberia's natural resources and illicit trade in blood diamonds and timber. Regarding diamonds, the EU is actively supporting the Kimberley Process in the implementation of effective controls on diamond production and trade, which enables Liberia to certify the shipments of rough diamonds as conflict free. Timber is being addressed via the on-going negotiation process between Liberia and the EU of a Voluntary Partnership Agreement (VPA) on Forest Law Enforcement, Governance and Trade. Once concluded, the VPA will establish a licensing scheme which will enable Liberia to ensure that only legally harvested timber will be exported.
Conflict prevention
Apart from the conflict prevention rationale behind the current EU strategy based on a flexible LRRD approach (without a dramatic improvement in the provision of basic services and implementation of governance reform, the likelihood of a return to conflict will not be reduced), the EU has cooperated with Liberia in the following conflict prevention actions and initiatives:
support for the Truth and Reconciliation Commission (TRC),
support for the training of recruits by the National Police Training Academy,
support for Liberia's Disarmament, Demobilisation, Reintegration and Rehabilitation Programmes through the UNDP Trust Fund.