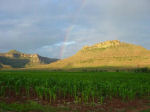 Lesotho
EU-Lesotho cooperation aims to support the country's national development plan, and thereby to decrease the incidence of poverty and promote sustainable growth. The EU-Lesotho country Strategy Paper for 2008-2013 funded under the 10th European Development Fund has a total budget of € 139 M.
Funding is allocated to several priority areas. Firstly, the EU is supporting the national development plan, macro-economic stability and improvement of public finance management through general budget support. A second priority area is to support the national water and sanitation strategy through sector budget support. The third priority under human development is used to complement social protection of orphans and vulnerable children through project support under joint management by the European Commission and UNICEF.
In addition to these priority areas, the EU is also supporting capacity building for decentralization and non-state actors.