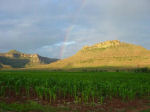 Lesotho
The Kingdom of Lesotho is a small landlocked country completely encircled by South Africa. It is one of the few constitutional monarchies in the world. King Letsie III is the Head of State; he appoints the prime minister. This geographical enclosure means strong links with South Africa with regard to economics and migration. Lesotho could take more advantage of this geographical proximity (i.e. in water and energy sectors), but its negotiating capacity with its larger neighbour needs to be strengthened.
The country is confronted with many challenges, such as food security, the public administration's limited capacity to deliver , HIV/AIDS, its relationship with South Africa, inequality and unemployment.
In 2012, elections in Lesotho led to a coalition government. Since this form of governance was the first of its kind in Lesotho (and most probably in Sub-Saharan Africa), compromises were needed between the different parties. This led to frictions in early 2014 and an insurrection in August 2014. The Southern African Development Community came to a rescue and restored law and order in the country.
Fundamental human rights are guaranteed under the Constitution. Lesotho is a signatory to various treaties and protocols relating to the recognition and protection of civil, political and cultural rights; human rights; freedom of political association; war and conflict; crime; corruption; and human trafficking.
Lesotho is a 'Least Developed Country'. Poverty remains widespread – it is estimated that over 50% of the population lives in poverty and about 30% of the population is food poor. Climate change is causing poor harvests and soil erosion (worsened by subsistence rain-fed agriculture and overuse of biomass). Food insecurity is worsened by high food prices (two thirds of its food comes from South Africa). HIV/AIDS affects a large part of the population and creates a high number of orphans and other vulnerable children.
The economy of Lesotho depends heavily on the remittances of migrant workers and receipts from the Southern African Customs Union. There are few exploitable natural resources. Water is the most important natural resource, with high potential for export to South Africa. Lesotho's exports to the EU are almost exclusively diamonds (between M€ 100-160/year) and some small quantities of textiles and clothing. The official currency is the Loti, which is at par with the South African Rand.
The EU's relationship with Lesotho assumes particular importance from the perspective of our interest in developing good relations with the countries of the Southern African region as a whole. Relations with Lesotho are good but rather low-key. The EU-Lesotho political dialogue was resumed in November 2011 after a two-year interruption. No EU country has a local representation (1).
EU-Lesotho cooperation under the 11th EDF is coherent with the "Agenda for Change" and supports the implementation of the National Strategic Development Plan (NSDP) 2012/13-2016/17. The reduction and eventual eradication of poverty remains the key objective for EU cooperation and will take place within the framework of the NSDP, taking into account the principle of ownership. The indicative allocation (2) for the 11th EDF envelope is of €142m, and will concentrate on three focal sectors: water, energy and governance. The overall and specific objectives for the three sectors are in line with those identified in the NDSP and sector strategies:
The objective of EU support for the water sector is the expansion of water and sanitation distribution services to businesses, commercial centres, households and other institutions.
For energy, the aim is to provide Lesotho's people and productive sectors with access to a modern, clean, affordable and reliable energy supply.
Finally, support for good governance is intended to achieve a more efficient and cost-effective provision of public goods and services.
Although the EU Delegation is the only EU representation in Lesotho, there is cooperation with other donors (3).
Past EU ODA (4)
---
(1) Political and policy priorities
fostering sound political relations between Lesotho and the EU;
promoting good governance, transparency, accountability, judicial independence, the rule of law and strengthening of security;
contributing to a sustained poverty alleviation effort and social stability through inclusive growth, income generation and redistribution, rural development and environmental sustainability;
supporting integration into the multilateral trade system, including through an Economic Partnership Agreement with the EU.
2) The National Indicative Programme for Lesotho has been approved at EU level, but it has not yet been signed by the Lesotho National Authorisation Officer. As a consequence, the NIP is not yet available for consultation.
3) Cooperation with other donors, including Member States, the European Investment Bank and other development banks is also envisaged. Possible complementary support, especially for interventions with a regional dimension, should be sought from the 11th EDF regional programme, other facilities (EU-Africa Infrastructure Trust Fund; ACP-EU Energy Facility, ACP-EU Water Facility, etc.), and Development Cooperation Instrument budget lines.
4) EU-Lesotho cooperation aims to support the country's national development plan, and thereby to decrease the incidence of poverty and promote sustainable growth. The EU-Lesotho Strategy Paper for 2008-2013, funded under the 10th European Development Fund, had a total budget of €139m.
Funding has been allocated to several priority areas. First, the EU has been supporting the national development plan, macro-economic stability and improvement of public finance management. A second priority area was to support the national water and sanitation strategy. The third priority – human development – has been used to complement the social protection of orphans and vulnerable children through projects managed jointly by the European Commission and UNICEF. In addition to these priority areas, the EU has also been supporting capacity building for decentralisation and non-state actors.