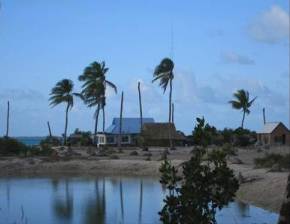 Water intrusion in Kiribati ©EU
Under the Cotonou Agreement, as a member of the African-Caribbean-Pacific (ACP) group of countries, Kiribati benefits from the 10th European Development Fund (€13.8m). Details of funding priorities are set out in the country strategy paper

.
Political dialogue
The EU's political dialogue with Kiribati focuses on:
protecting its vulnerable environment, especially in relation to climate change
defending human rights and gender issues.
The EU and Kiribati are discussing how to collaborate more closely in multilateral fora on these and other issues.
Aid and cooperation
Overall EU-managed assistance for 2008-13 is €20m. EU assistance and cooperation focuses on:
implementation of the Fisheries Agreement
water supply and sanitation (€6.7m)
renewable energy (€4.1m)
climate change (especially considering the deterioration of coastal zones, coral reef, fisheries and clean ground water).
Following the mid-term review of the 10th EDF, Kiribati received a top-up of €2.5m for the water sanitation programme, and €4.2m has also been allocated under the Millennium Development Goals Initiative.
The EU and the Kiribati authorities are currently considering the use of general budget supportas a possible financing option, and the EU is developing its collaboration with Kiribati and other countries in the Alliance of Small Island States (AOSIS) with respect to climate change and global warming.