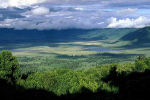 Kenya
The EU has been engaged for many years in Kenya and East Africa. The EU and Kenya have a long standing partnership to promote social and economic development in the country. The EU's strategy for Kenya

for 2008-13 provides funding worth €399m, focusing on transport infrastructure and agriculture and rural development.
This partnership includes a political dialogue on Kenya's political reform agenda, to enhance accountability of the institutions and on human rights. An EU Election Observation Mission monitored the 2013 elections process for several months.
Kenya and the EU are also working together to enhance stability and peace in the region with maritime security and Somalia being the two most important priorities.