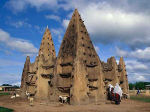 Côte d'Ivoire
The European Union supports political stability, particularly governance in the security sector, as well as the economic and social development of Côte d'Ivoire. Côte d'Ivoire is one of the European Union's principal partners in West Africa with regard to trade flows, Economic Partnership Agreements and regional integration.
In recent years, Côte d'Ivoire has experienced an unprecedented political and military crisis. This crisis reached its peak during the deadly violence which followed the presidential election at the end of 2010.
The European Union has been an important political actor throughout the crisis, taking part in the peace talks and providing technical and financial support to the post-crisis programmes, such as the electoral process. During this period, the EU was also the only major donor to maintain its cooperation activities through development and humanitarian programmes designed to, among other objectives, mitigate the impact of the crisis on the population.
During the post-electoral crisis, the EU adopted a firm position supporting the legitimately elected President and adopted a sanctions regime that proved very effective in helping to topple the illegitimate regime of the former President Gbagbo.
The country must now consolidate this still-fragile peace by addressing the root causes of the conflict, promoting reconciliation, reforming its defence and security forces, improving governance and fighting corruption. The European Union is firmly committed to supporting Côte d'Ivoire in facing these challenges.
The European Union believes that those who have committed serious human rights violations, from both sides, should be brought to justice, and fully supports the action of the International Criminal Court in Côte d'Ivoire.
Under the 10thEuropean Development Fund (EDF, 2008-2013), the EU supported measures relating to good governance, reform of the justice system and internal security, health, and vocational training. It also supported trade and regional integration, rural development, road infrastructure, and civil society. An amount of EUR 29 million will be committed in 2014 as budgetary support.
The budget of the 11th EDF (2014-2020) amounts to EUR 273 million to support three sectors: State and peace-building; Agriculture and food security and Energy.