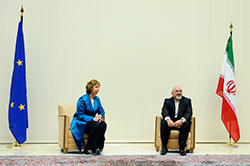 Catherine Ashton with Iranian Foreign Minister Javad Zarif in Geneva: 15 October
There is great potential for deeper relations between Iran and the EU. Whilst practical cooperation between the EU and Iran already exists, the scope is currently well below potential. The limits of our cooperation reflect ongoing concerns in the EU and international community, chiefly connected to Iran's nuclear programme. The EU is also following the situation of human rights closely.
The European Union has no Delegation in the Islamic Republic of Iran (IRI) but is nevertheless working in close collaboration with the EU member states embassies in Tehran.