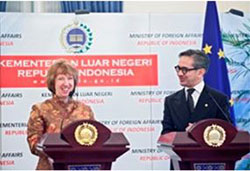 EU High Representative Catherine Ashton with Indonesian Foreign Minister Marty Natalegawa
EU-Indonesia relations
Indonesia is a key partner in a vitally strategic region, and an increasingly important international ally. A G20 member on the verge of becoming a trillion‑dollar economy, it is also very active in promoting integration in ASEAN, the hub of south-east Asia's emerging political, security and economic architecture.
The High Representative/Vice-President has identified 3 key priorities for relations with Indonesia:
a) strengthening economic ties including promoting the Comprehensive Economic Partnership Agreement
b) deepening our political partnership
c) exchanging views on regional and global topics, in the light of Indonesia's increasing prominence in world affairs, e.g the South China Sea issue, North Korea and ASEAN's future.
On her last visit, the High Representative underscored that Indonesia - as a successful democracy and the world's largest Muslim country - could serve as a role model for other countries in transition, in the EU's immediate neighbourhood.

The EU-Indonesia Partnership and Cooperation Agreement

the first in south-east Asia and the first after the entry into force of the Lisbon Treaty, is due to take effect in 2014. It will take political relations to a new and higher level.
Indonesia and the EU share many interests including
regional integration
multilateralism
the environment
climate change.
As regards environmental concerns, Indonesia is the first country in the region to sign with the EU a Voluntary Partnership Agreement on Forest Law Enforcement, Governance and Trade - a major step towards more sustainable management of forest resources.
EU-Indonesia trade accounted for USD 30.1 bn in 2013. Investment by EU businesses in Indonesia currently exceeds €130 bn, making the EU Indonesia's third largest trading partner and one of its main foreign direct investors. However, untapped potential remains.