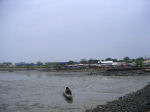 Guinea
Guinea is currently engaged in a transition from a military regime to democracy. The first democratically elected President of Guinea – Alpha Condé – was elected in 2010, but free and transparent legislative elections and the establishment of a new national assembly have yet to take place.
Despite its significant natural resources, Guinea remains one of the poorest countries of the continent and therefore receives EU development support. This cooperation was partially suspended following the 2008 military coup – this is considered a breach of Article 96 of the Cotonou Agreement, upon which development cooperation with the EU is founded.
The violent repression of a peaceful demonstration in September 2009 also led to targeted sanctions (a visa ban and the freezing of funds) against members of the military junta and an arms embargo

.
Following presidential elections and the installation of civilian authorities, cooperation has resumed and the path is now clear for the signature of programming documents (Country Strategy Paper/National Indicative Programme, 10th European Development Fund (EDF)) once the Guinean authorities present a detailed electoral calendar for holding legislative elections before the end of 2012. Of the €174.3 million in EDF funds available for Guinea, those for basic social services will be available initially. Once free and transparent elections have taken place, the remainder will then be released

.
This funding is in addition to the €40 million in EU emergency support made available to Guinea in 2010 to assist the transition to democracy.