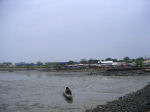 Guinea
Following the peaceful legislative elections in Guinea in September 2013, the EU Council decided

, in December of the same year, that EU aid under the European Development Fund could resume. The elections were the last step on the roadmap set up by the Council following the military coup in 2008.
The Commission unblocked almost €140m to support government efforts to promote good governance (reforms in the financial, justice and security sectors) and human rights, and improve the road infrastructure. This money is on top of the €34.4m released in December 2012 for basic social services, and the €40m in emergency aid paid to Guinea since 2010, to help its transition to democracy.
The individual sanctions imposed by the EU in response to the violent repression of a peaceful demonstration in September 2009 remain in place. The arms embargo imposed on the same date was lifted in April 2014.