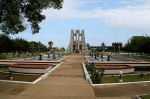 Ghana
Political, trade and cooperation relations between the EU and Ghana are based on the ACP‑EU Partnership Agreement ("Cotonou Agreement"). Regular political dialogue between the two parties covers a wide range of issues - political, trade, development, and governance including human rights.
Bilateral cooperation between Ghana and the EU is governed by the Country Strategy Paper 2008‑13

, and focuses on:
transport connectivity and regional integration
governance
general budget support to help poverty reduction and promote economic growth.
Overall EU assistance to Ghana (2008‑13) is expected to amount to some €500m – more than originally planned, due to Ghana's good performance.
As one of the few countries in West Africa that is not in the least-developed country (LDC) category, Ghana has initialled an interim Economic Partnership Agreement (2007) with the aim of safeguarding access to the EU market and avoiding trade disruptions. Ghana now enjoys full duty‑free and quota‑free access to the EU (with some transitional restrictions for sugar). Additionally, a regional Economic Partnership between the EU and West Africa is currently being negotiated.
Ghana was the first country to sign a Voluntary Partnership Agreement (VPA) with the EU (in 2009) under the forest law enforcement, governance and trade (FLEGT) initiative. The agreement aims to improve forest governance and ensure that timber exports to Europe are legal and come from the certified place of origin.