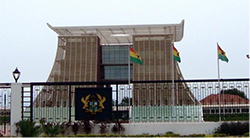 Flagstaff House is the presidential palace in Accra, and serves as a residence and office to the President of Ghana
EU-Ghana relations
Political, trade and cooperation relations between the EU and Ghana are based upon the ACP-EU Partnership Agreement (The Cotonou Agreement), signed in 2000 and revised in 2005 and 2010. The EU and Ghana have regular political dialogues that cover a wide range of issues – regional, political, trade, development and governance– including human rights.
The regional Economic Partnership Agreement (EPA) between the EU and West Africa was initialled in June 2014. When the regional EPA enters into force it will cover trade relations between the EU and Ghana. At the moment, Ghana enjoys full duty-free and quota-free access to the EU under the Market Access Regulation.
In 2009 Ghana became the first country to sign a Voluntary Partnership Agreement (VPA) with the EU under the 'forest law enforcement, governance and trade' (FLEGT) initiative. The aim of the VPA is to improve forest governance and to ensure the legality and the certified origin of timber exports to Europe.
The priorities for EU-Ghana bilateral cooperation under the 11th European Development Fund (EDF) are set out in the National Indicative Programme 2014-2020

:
governance: public sector management and accountability;
productive investment for agriculture in Savannah Ecological Zones;
employment and social protection.
Overall EU assistance to Ghana under the National Indicative Programme is expected to be €323m. In addition, Ghana will benefit from EU development assistance under regional, intra-ACP and thematic instruments.
Programmes funded under the 10th EDF (2007-2013) are still underway. The programmes focus on transport connectivity, governance, maternal health, trade, migration and the environment.