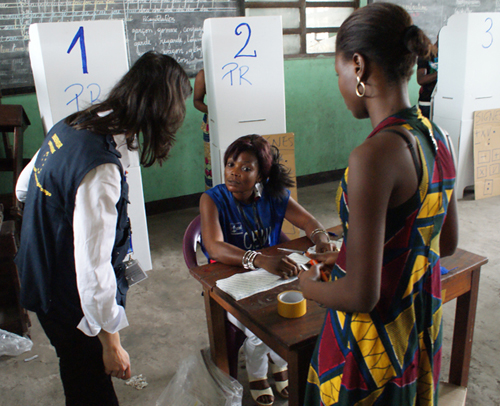 EU election observer talking to women in a polling station
At the invitation of the Government of the Democratic Republic of Congo, the European Union established a mission to observe the legislative and presidential elections there on 28 November 2011.
Mariya Nedelcheva, Member of the European Parliament, was Chief Observer. The EOM noted a lack of transparency and irregularities in the collection, compilation and publication of results. For this reason, the Mission recommended certain reforms to boost the transparency and credibility of the electoral process. This included the reconstitution of the Electoral Commission and the auditing of the electoral lists by an independent structure.
The observers were deployed throughout the country. They met high rank government and electoral officials, candidates and political parties, civil society representatives and the media.