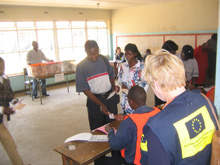 EU observer in polling station
At the invitation of the Government of Zambia, the European Union established a mission to observe the tripartite elections there on 28 September 2006.
The Mission is led by Annemie Neyts (Belgium), a member of the European Parliament.
Despite some delays in the start of voting due to the late arrival of essential election material, election day proceeded well. Voters turned out in significant numbers and polling took place in a calm and orderly environment.
The observers were deployed throughout the country. They met government and electoral officials, candidates and political parties, civil society representatives and the media.