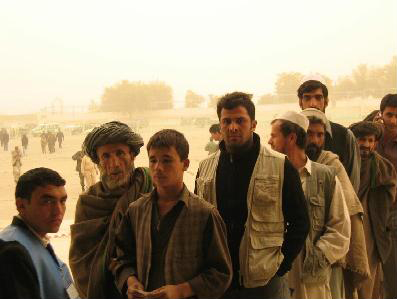 Men queuing
The European Union established a mission to support the presidential elections in Afghanistan on 9 October 2004.
Over nearly three months, the DESM undertook a comprehensive assessment of key aspects of the electoral process and wider issues relating to the democratic transition of Afghanistan.
The DESM followed all phases of the work of the Joint Election Management Body (JEMB) across the country and liaised closely with candidates, political parties, civil society groups, government authorities and international agencies.
The successful conduct of the 9 October presidential election was a remarkable achievement towards the establishment of democratic institutions in Afghanistan. Huge logistical challenges were overcome to ensure that voters and candidates were able to take part in an electoral process that generally met many key international standards for democratic elections.
The observers were deployed throughout the country. They met government and electoral officials, candidates and political parties, civil society representatives and the media.