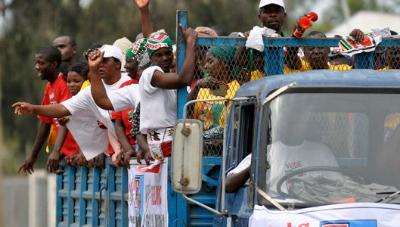 People standing on the back of a truck
At the invitation of the National Election Commission of the Republic of Mozambique, the European Union established a mission to observe the municipal elections there on 19 November 2003.
The EU EOM was headed by Chief Observer José Maria Mendiluce (Spain), a member of the European Parliament (MEP) and of the Joint Parliamentary Assembly of the ACP-EU (Agreement between the African, Caribbean and Pacific states and the European Union).
The 2003 municipal elections were the second municipal elections in Mozambique but they were the first to involve a wide political spectrum which included groups of citizens, small political parties and the main opposition force.
The observers were deployed throughout the country. They met government and electoral officials, candidates and political parties, civil society representatives and the media.