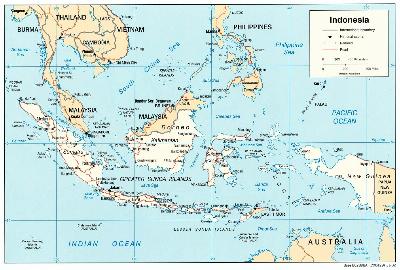 Map of Indonesia
At the invitation of the Government of Indonesia, the European Union established a mission to observe the parliamentary elections there on 7 June 1999.
The European Union observed the Indonesian legislative election held on 7 June 1999. This was the first election since the end of the New Order and the first free election in Indonesia since 1955.
With the ending of restrictions on political activity following the fall of Suharto, a total of 48 parties contested the 462 seats up for election in the People's Representative Council. A further 38 seats were reserved for the armed forces.
In a truly impressive display of enthusiasm for and commitment to democracy, a very high percentage of Indonesia's more than 112 million eligible voters came to the polls.
These elections represented a decisive step forward in Indonesia's transition from authoritarian rule to democratic governance. For the first time in Indonesia's history, it resulted in a peaceful transfer of power.
The observers were deployed throughout the country. They met government and electoral officials, candidates and political parties, civil society representatives and the media.