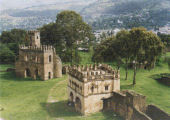 Ethiopia
The EU is seeking to develop a relationship with Ethiopia that is based on the principles of peace, prosperity and partnership, and that supports Ethiopia's economic and political reforms.
An accountable government, built on free speech, democratic institutions, a vibrant civil society, and respect for human rights and the rule of law are crucial for peace and stability in Ethiopia. The EU and Ethiopia are engaged in dialogue in the framework of article 8 of the Cotonou Agreement on those important issues, aimed at building common understanding and commitment on these values.
The EU wants to support prosperity in Ethiopia. The country is one of the largest beneficiaries of EU development cooperation support, details of which can be found in Ethiopia's country strategy paper. Trade is also very important in EU-Ethiopia relations, and the EU also provides important humanitarian assistance to the country.
The partnership between Ethiopia and the EU is based on the Africa-EU strategic partnership and the Cotonou Agreement, which define relations between the EU and Africa collectively, and between the EU and ACP countries. Article 8 of the Cotonou Agreement provides the basis for political relations and dialogue between Ethiopia and the EU.