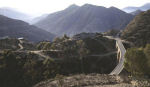 Eritrea
Eritrea is located in the Horn of Africa region of east Africa. Its total area is 117 600 km². The total population is around 4.5 million of which approximately 10% live in the capital Asmara, located in the country's centre. Eritrea's per capita GDP is estimated at USD 200.
Eritrea has been independent since 1993 following a 30-year guerrilla struggle war. Subsequent conflicts with Yemen and neighbouring Ethiopia and Sudan have lead to major economic and social crises. War provoked regional political instability and has made economic progress difficult in Eritrea. The government launched in 2001 a post-war recovery programme, but the challenges posed by the 'not war, not peace' situation between Ethiopia and Eritrea, and the fragile regional context, are a formidable burden on Eritrea's development. Eritrea is also highly susceptible to drought as there are no permanent rivers and there is an acute lack of fertile land.
The EU remains very concerned over the human rights situation in Eritrea. The economic and governance context poses a burden on human development in the country.
Key issues in EU-Eritrea relations
Reconstruction efforts have been ongoing in Eritrea since the end of the war. The EC strategy for reconstruction is based on a partnership with the government of Eritrea and focuses on short-term stabilisation programmes such as: i) post-conflict reha­bilitation, including re­construction of social and infra­structure in war-affected areas and support to the education sector; ii) demobilisation and reintegration of soldiers; iii) roads maintenance, iv) food security.
Meanwhile, the EC cooperation programme in Eritrea faces several challenges. These include the capacity of Eritrea's institutions; the unstable regional situation and its repercussions on the internal situation, including restrictions on access within the country; the restricted number of development actors and the host country's approach towards aid effectiveness.
The EU pursues a political dialogue with Eritrea on issues of common interest and on issues of concern to the parties. The EU continues to pursue a policy of engagement vis-à-vis the Government of Eritrea and the Commission is providing development assistance to the Eritrean people through its cooperation programme with the Government of Eritrea. More details can be found in the Country Strategy Paper and in the Joint Annual Reports. The Commission values transparency and openness. It has a policy of talking to all parties and opinion makers, within and outside the Government structures and will pursue its policy of broad dialogue. The EU's policy vis-à-vis Eritrea is regularly assessed.
Commission participation to conference on democratisation and human rights in Eritrea


EU relations with Eritrea FAQ (June 2010)