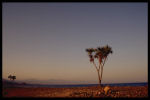 Djibouti
The Republic of Djibouti, a small country with an area of 23,000 km², located on the shores of the Red Sea, has been independent since 1977. Its location gives it major strategic importance in the region. Its population, estimated at between 700,000 and 800,000, has a relatively low life expectancy and a very high poverty index.
The country's political system is characterised by a strong presidential regime. The 1992 Constitution and the peace agreement of 2001, which brought the civil war to an end, recognise fundamental liberties and the basic principles underlying good governance. However, the implementation of administrative decentralisation and an efficient multi-party system is not yet effective. Djibouti suffers from a series of structural handicaps, with low natural resources, an arid climate and the limitations inherent to a small country, but can nevertheless take advantage of its geostrategic position.
Key issues in EU-Djibouti relations
In 2002, a sum of € 34.8 M euros was allocated by the 9th European Development Fund (EDF) to support the efforts by the government to implement economic, structural and sector-specific reforms, intended to reduce poverty. For the 10th EDF, the Community strategy is structured around the water sectors, including sewage treatment, and energy, which is a continuation of previous EDFs. These sectors, where the European Community has been very active since the start of its relations with Djibouti, are crucial for the country's progress.
Access to drinking water remains an absolute priority for the population, and it is recognised as a prime factor in reducing poverty, as is sewage treatment. Due to the scale of the requirements, sewage treatment is one of the main environmental challenges for the country and its capital, which is home to 70% of the country's population. Finally, the availability of multiple forms of affordable energy in sufficient quantity is a key factor for economic growth and the fight against poverty. A total of € 40.1 M will be devoted to these three areas. The European decision to concentrate its support in this sector should enable the country to consolidate the achievements of the 9th EDF by creating conditions for sustainable development.