Delegation to Zimbabwe

News
The European Union Delegation issues the following statement in agreement with the EU Heads of Mission in Zimbabwe: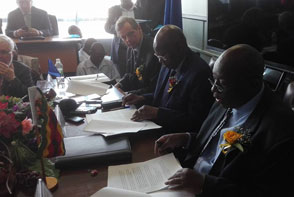 The Government of Zimbabwe and the European Union today signed five financial agreements amounting to EUR 89 million under 11th European Development Fund (EDF) 2014 - 2020 National Indicative Programme (NIP) of Euro 234 million.
The Delegation of the European Union to the Republic of Zimbabwe announces the results of tender EEAS-277-DELZWEH-SER-FWC.
All news
Working together in Zimbabwe
The SMIDSP is developing 1800 ha of community owned irrigation schemes in drier areas of Zimbabwe (Natural Regions III, IV and V). About 50 projects are being developed or rehabilitated to enable farmers to produce and market food and cash crops.
More...

Top News from the European Union