Delegation to Zimbabwe

News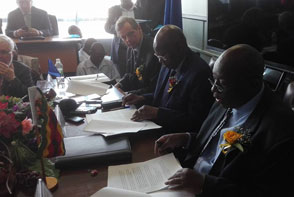 The Government of Zimbabwe and the European Union today signed five financial agreements amounting to EUR 89 million under 11th European Development Fund (EDF) 2014 - 2020 National Indicative Programme (NIP) of Euro 234 million.
The Delegation of the European Union to the Republic of Zimbabwe announces the results of tender EEAS-277-DELZWEH-SER-FWC.
The European Union Delegation issues the following statement in agreement with the EU Heads of Mission in Zimbabwe:
It has now been six months since the abduction of human rights defender and leader of Occupy Africa Unity Square, Itai Dzamara, on 9 March.
All news
Working together in Zimbabwe
Community based management models are applied in establishment and operation of micro hydro power plants in rural areas of Southern Africa. Focus is on enhancing capacity in design and implementation of energy schemes
More...

Top News from the European Union