World day against the death penalty radio programme (08/11/2012)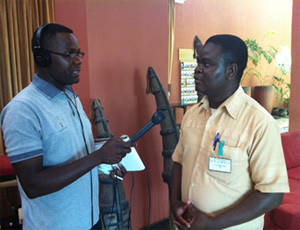 Boyd Chibale (BBC Media Action) & Father Cleophus Lungu (Zambia Episcopal Conference)
To mark the World/ Europe Day against the Death Penalty, the EU with the assistance of BBC Media Action produced a radio programme discussing issues related to the death penalty. The programme was designed to relay the EU's message on the need to abolish the death penalty as well as to capture the opinions of people in the communities.
Zambian advocates against the death penalty were approached for pre– recorded statements on why the death penalty should be abolished. Advocates included Rodger Chongwe (State Counsel) Pastor Richard Mbendawina (Prisoners Fellowship), Pastor Peter Kunda (age 51 who served 27 years on death row), Fr Clephas Lungu (Zambia Episcopal Conference). The statements were edited and a 15 minute programme on CD was dispatched to 6 community radio stations.
The programme was aired by a local presenter and a community spokesperson who both introduced the programme in their local language and opened the phone-in question and answer session which lasted approximately 30 minutes.
Overall the programme received a great deal of positive audience feedback and also led to discussions about the present state of the prisons, as well as the need to remove the death penalty from the Constitution as it is an ineffective deterrent. However, a number of callers from different communities called for the introduction of alternative if not violent forms of punishment (amputations). It should also be noted that most of the community stations are faith-based therefore lean towards promoting the message of forgiveness and giving offenders the chance to repent.