Delegation to Zambia

News
Getting to zero: zero new infections, zero deaths and zero stigma discrimination.
Notes from an EU-funded project in North-Western project.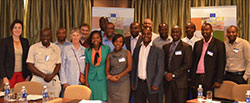 How can the rich and long tradition and variety of food products originating in Zambia be protected? Which products in Zambia are intrinsically linked with their geographical origin? What are the benefits of protecting and preserving these types of food products under a special quality system?
All news
Working together in Zambia
The project aims at improving the quality of education in community schools in Zambia. Its objective is to provide quality basic education to disadvantaged children and orphans by improving the infrastructure and teachers' qualifications.
More...

Top News from the European Union