Delegation to Zambia

News
In 2014 the EU Delegation in Zambia adopted a Roadmap for its engagement with civil society in Zambia and defined three priorities in this area.
Ambassador Gilles Hervio and the UNICEF Representative, Mr. Hamid El-Bashir handed-over medical equipment, vehicles and motorcycle ambulances to the Ministry of Community Development, Mother and Child Health and the Ministry of Health. Findings from a recent health facility baseline assessment demonstrated Zambia's health care system faces significant challenges, even with basic services such as piped water and stretchers. Gaps in human resources and infrastructure needs were clearly identified in the study. The equipment handed over to the Government should help improve the quality of care to mothers, adolescents and children within health facilities and through outreach into the communities – helping Zambia's most vulnerable populations. The contribution is made under the Millennium Development Goals initiative programme, through which the European Union supports the Zambian Government in accelerating the reduction of maternal and child mortality. The 50 million Euro progr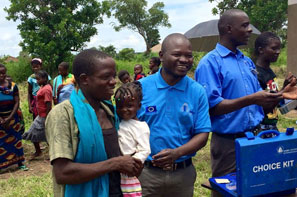 Judith is one of the 26,000 women in Zambia's Muchinga Province who, by 2016, will be using a modern contraceptive method as a result of Marie Stopes Zambia's innovative family planning project, funded over three years (2013-2016) by the European Union. In 2014, MSZ provided Judith and more than 8,000 other women with life-changing family planning services. (All photos by MSZ, words by MSZ and James McNulty, EU in Zambia)
All news
Working together in Zambia
The project aims at increasing the working capacity of people of the Lusaka province in Zambia by providing vocational education and trainings for the most vulnerable population.
More...

Top News from the European Union