COMESA & the EU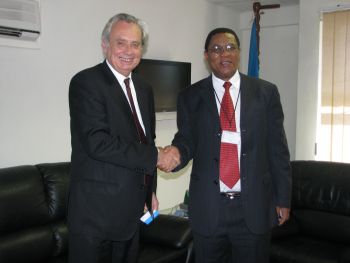 EU Head of Delegation Gilles Hervio with COMESA Secretary General Sindiso Ngwenya
The Delegation of the European Union in Zambia is also responsible for managing official relations between the European Union (EU) and the Common Market for East and Southern Africa (COMESA).
The relations between COMESA and the EU date back to the days of the establishment of COMESA's predecessor institution: the Preferential Trade Agreement (PTA) in the early 1980s.
These relations are conducted within the framework of the Cotonou Agreement, the global agreement between the countries of the African, Caribbean and Pacific Group and the EU.
The Cotonou Agreement is designed to establish a comprehensive partnership, based on three complementary pillars:
economic and trade cooperation with a particular emphasis on the Economic Partnership Agreement currently being negotiated between the EU and Eastern and Southern African States