Internal Organisation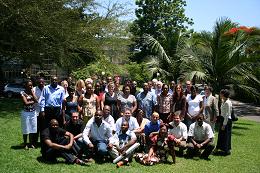 Part of EU Delegation staff
The EU Delegation is headed by the Head of Delegation, Ambassador Gilles Hervio.
The activities of the Delegation are subdivided into four main areas:
Political, Trade, Press and Information,
Development Cooperation,
Finance, contracts and audits, and
Administration.
Development Cooperation is the largest area in which the Delegation is active, and its operations, headed by Arend BIESEBROEK, are subdivided into the following four operational sections,:
Economics and Rural Development
Infrastructure
Social Sectors and Governance
Regional Cooperation
The names of the persons currently in charge of the respective areas in the EU Delegation are listed below.
Head of Delegation
Gilles Hervio
Assistant to the Head of Delegation
Patrizia DE GREGORIO
Head of Political, Press & Information Section
Rune SKINNEBACH
Head of Operations
Arend BIESEBROEK
Section 1 "Economics and Rural Development" - Head of Section
Kirsi PEKURI
Section 2 "Infrastructure" - Head of Section
Adam GRODZICKI
Section 3 "Social Sectors and Governance" - Head of Section
Fabienne VAN DEN EEDE
Section 4 "Regional integration" - Head of Section
Daniel DOMINGUEZ HURTADO
Head of Finance and Contracts Section
TBA
Head of Administration
Despoina KATSAOUNI