Welcome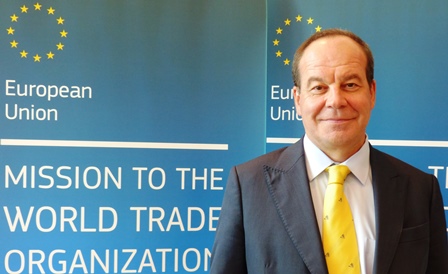 Dear visitor,
Thank you for your interest in the work of the European Union in Geneva.
Since January 2011, the EU has two separate representations in Geneva: the Permanent Mission of the EU to the World Trade Organization, which I am heading, and, the Permanent Delegation of the EU to the United Nations Office and other international organizations in Geneva, which is headed by Ambassador Peter Sørensen.
This strengthened presence in Geneva results from the entry into force of the Lisbon Treaty and the creation of the European External Action Service (EEAS), which have strengthened the EU's capacity to act in matters of foreign affairs and security. The multilateral system and multilateral diplomacy are a top priority for the EU and for both of our representations in Geneva.
In the field of international trade, the task ahead is to build on the success of the Bali Ministerial conference in 2013 and to round off the long-stalled Doha Development Agenda. Also, the ratification of the Trade Facilitation Agreement should be brought to a good end so that the new rules on the harmonisation and simplification of customs clearance can take effect.
The WTO's 10th Ministerial Conference in Nairobi in December will hopefully constitute a further milestone in multilateral trade liberalisation and the adoption of new disciplines, with a particular focus on the interest of least-developed countries. It should also be an important occasion to reflect on the WTO's future negotiating agenda.
As the world's largest trading entity, and the single largest provider of Aid for Trade, the EU, speaking with one voice in the WTO, will continue to play an active leadership role in identifying and promoting ways to advance the international trading system and the WTO, be it in the day-to-day work of the organisation or in any negotiations taking place.
This website provides you with information on policy areas dealt with in Geneva. Further information on EU policies and activities is also easily accessible through the Europa gateway. The Delegation of the European Union in Bern deals with bilateral relations with Switzerland.
Your comments, questions, and suggestions on our activities in Geneva are welcome.
You can contact us directly at delegation-geneva-wto@eeas.europa.eu
Marc Vanheukelen
Ambassador and Permanent Representative