Welcome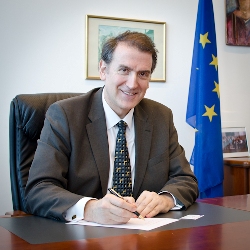 Dear visitor,
Thank you for your interest in the work of the European Union in Geneva.
Since January 2011, the EU has two separate representations in Geneva: the Permanent Mission of the EU to the World Trade Organization, which I am heading, and, the Permanent Delegation of the EU to the United Nations Office and other international organizations in Geneva, which is headed by Ambassador Peter Sørensen.
This recent and reinforced set-up in Geneva follows the entry into force of the Lisbon Treaty and the creation of the European External Action Service (EEAS), which have strengthened the EU's capacity to act cohesively in matters of foreign affairs and security. The multilateral system and multilateral diplomacy are a top priority for the EU and thus also for both of our two representations in Geneva.
In the area of trade policy, the EU and other WTO Members all worked hard to deliver meaningful multilateral results at the ninth Ministerial Conference of the World Trade Organization that took place in Bali, Indonesia from 3-6 December 2013. In Bali, Ministers reached an agreement on a series of important issues, in particular on:
Trade Facilitation: this first new agreement since the WTO's inception in 1995 will help countries to cut red tape at their borders to become more efficient traders;
Agriculture: clarifications were introduced to help countries address food security concerns, an understanding was reached on tariff-related issues ("Tariff Rate Quota" (TRQ) administration) and Ministers adopted a statement on export competition;
Development: a number of decisions benefitting developing countries and in particular Least Developed Countries (LDCs) in areas such as rules of origin, services, etc.
The significance of the "Bali package" lies not only in the results it contains. It also speaks to the ability of WTO Members to come together and negotiate common trade rules and agreements. As such, it sets the scene for further work in other areas. Once all WTO members have met their commitment regarding Trade Facilitation members will then establish and agree on a new work program. That program will define the next steps we hope to collectively take in multilateral trade policy. It remains important that the WTO can continue to play a central role in as a forum for international negotiations that shape the forces and unleash the benefits of global trade.
As the world's largest trading entity, the EU, speaking with one voice in the WTO, will continue to play an active leadership role in seeking and promoting ways to move the international trading system and the WTO forward.
This website provides you with information on policy areas dealt with in Geneva. Further information on EU policies and activities is also easily accessible through the Europa gateway. The Delegation of the European Union in Bern deals with bilateral relations with Switzerland.
Your comments, questions, and suggestions on our activities in Geneva are welcome.
You can contact us directly at delegation-geneva-wto@eeas.europa.eu
Angelos Pangratis
Ambassador and Permanent Representative