Delegation to the UN and other international organisations in Geneva
Focus
The UN Human Rights Council holds its 25th regular session from 3 to 28 March 2014 in Geneva. The first four days are devoted to the High-level Segment with a number of Ministers and high dignitaries speaking before the Council. A number of issues of high importance to the European Union will be addressed during the four weeks. On the thematic issues, the discussions on the mainstreaming of human rights, on the death penalty, the prevention of genocide, sexual violence in the Democratic Republic of Congo, as well the protection of the civil society are of particular relevance to the EU. The Council will also have to decide on the follow up action to the conclusions of the two Commissions of Inquiry on the human rights violations in the Democratic People's Republic of Korea as well as in Syria.
The EU is actively engaging in this year's activities at the UN on the occasion of the International Day in Memory of the Victims of the Holocaust. It is organising an exhibition on the girls in the ghetto of Theresienstadt in the Palais des Nations and has invited one of the girls who survived Theresienstadt and Auschwitz to deliver her testimony at the official ceremony in the UN on 28 January. The EU also participates in the Holocaust Remembrance programme for schools on 29 January. The International Day in Memory of the Victims of the Holocaust is marked each year on 27 January, the day of the liberation of the Auschwitz concentration camp.
EU High Representative Catherine Ashton attended, on behalf of the EU, the Geneva II peace conference on Syria in the Swiss city of Montreux on 22 January 2014.
More...

Top News from the European Union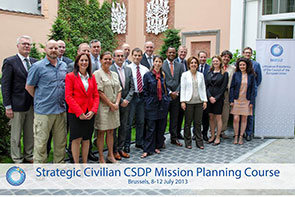 01/07/14 -
ESDC - Strategic civilian CSDP Mission Planning Course
From 8 to 12 July 2013, Austria and Lithuania organised a Strategic Civilian CSDP Mission Planning Course at the Permanent Representation of Lithuania in Brussels
All news