Barroso and Van Rompuy: Signature of Association Agreements is a starting point in EU's co-operation with Moldova, Georgia and Ukraine (27/06/2014)
The European Council President Herman Van Rompuy and the European Commission President José Manuel Barroso believe signature of Association Agreements with Republic of Moldova, Georgia and Ukraine, which took place today in Brussels, is a historic moment.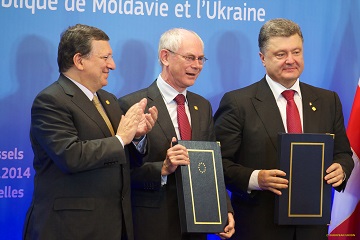 "These are not just any other agreements – but milestones in the history of our relations and for Europe as a whole," Van Rompuy stressed, recalling that in Kyiv and elsewhere people gave their lives for closer link to the European Union.

In this regard, he expressed belief that these documents "will bring greater stability and prosperity to the entire European continent."
"Future generations in Ukraine, Republic of Moldova and Georgia will remember this day. It is a great day for Europe," the European Council President stressed.

Barroso, in his turn, said that today's signature is "recognition of the significant progress made over recent years and of the countries' strong political determination to come closer to the European Union."
He expressed belief that these Agreements will enable EU's partner countries "to drive reforms, to consolidate the rule of law and good governance; and to give an impetus to economic growth in the region by granting access to the world's largest internal market and by encouraging cooperation across a wide range of sectors."
At the same time both Van Rompuy and Barroso emphasized that today's deals do not mark the final stage of co-operation. "It is a starting point, opening the most ambitious external relationship ever developed with the European Union," the European Council President stressed.

Barroso also called not to be under illusion as it is a substantial task ahead. "The Association Agreements' main objective is to help to deliver on the partner countries' own reforms, own ambition," he emphasized making a special focus on the need to reform the judiciary systems and public administration, to improve efficiency and transparency and to fight corruption.

In this context, the European Union, according to Van Rompuy, is ready to assist Georgia, Moldova and Ukraine all along the way. "You have our support and solidarity, and our recognition of your territorial integrity," he said.

Both Presidents also reaffirmed EU's position that Association Agreements signed today are not targeted against signatories' neighbors.

"These Agreements are for something – they are not against anyone," Barroso emphasized.

"There is nothing in these agreements, nor in the European Union's approach, that might harm Russia in any way. The European Union stands ready to engage with Russia as much as need be, to dispel misunderstandings where they may exist," Van Rompuy said.