Ukraine: positive trends in Schengen visa statistics (29/05/2014)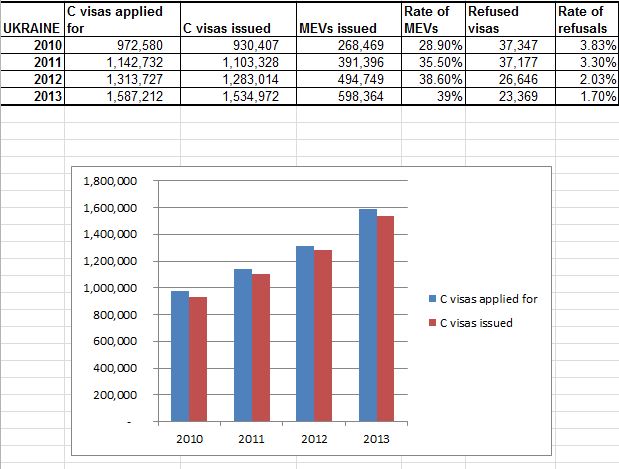 The latest Schengen visa statistics related to Ukrainian applicants, which have been recently revealed by the European Union, demonstrate overall positive tendencies.
The total number of visas issued (both multiple-entry visas and short term-stays visas C) almost doubled since 2010 (1.198.876 visas) compared to 2.133.336 visas in 2013.
The number of very much discussed multi-entry visas has also grown significantly (double-fold) and their share in the total visa statistics grew from 28.9% in 2010 to 39% in 2013.
Another positive tendency concerns the refusal rate. The percentage of those, who were refused a Schengen visa, dropped from 3,83% in 2010 to 1,7% in 2013.
Further improvements in the Schengen visas issuance have been further stimulated by the further visa facilitation arrangements that came into force on 1 July 2013.
In parallel, the European Commission has endorsed on 27 May 2014 the decision to allow Ukraine to move to the 2nd phase of the implementation of the so-called Visa Liberalisation Action Plan, which should pave the way to the visa-free regime between the EU and Ukraine.
It is also expected that the EU-Ukraine agreement on common aviation area will be signed soon and thus would provide for the access of low-costs airlines to the Ukrainian market. This step should lead to the decrease of flight tickets cost for Ukrainian passengers.