Publication "EU Delegation to Ukraine: 20 years together" (26/07/2013)
The EU Delegation to Ukraine has published a new brochure titled "EU Delegation to Ukraine: 20 years together". The aim of this publication is to mark the 20th anniversary of the establishment of mutual relations and cooperation between Ukraine and the European Union.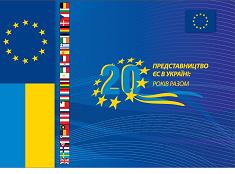 This brochure explains how the EU-Ukraine relations are practically implemented as well as it presents the mutual achievements by both parties during last 20 years and focuses on the future plans.
Last, but not least, the brochure also contains basic information about the EU and its political, economic and cultural relations with Ukraine. It also explains the EU activities, describes the state of trade with Ukraine and the negotiations process on the Association Agreement, which is now a key point on the common agenda of EU and Ukraine. Moreover, a reader will find here information on various forms of financial assistance of the EU to Ukraine (for example, in such fields as justice, nuclear safety, transport etc.).
This brochure may become an indispensable resource of information for those, who are eager to learn more about all possible dimension of EU-Ukraine cooperation, to gain access to main facts, data and numbers in form of charts and tables.
The brochure can be downloaded here:
http://eeas.europa.eu/delegations/ukraine/documents/virtual_library/20_years_together_uk.pdf