EU Study Days to conduct new studying sessions in Ukrainian regions (18/07/2013)
The Delegation of the European Union to Ukraine, in cooperation with the Centre for European Reform Education, will shortly open the second season of EU Study Days project. During the upcoming academic year (September 2013 – June 2014) four new education sessions will be conducted in different Ukrainian regions.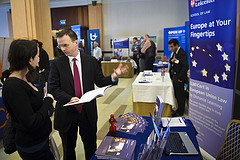 The EU Study Days will create an opportunity for Ukrainian university students and graduates to:
·

get more information about the European Union and EU-Ukraine relations from key experts in the field;

·

comprehensively study major issues in EU-Ukraine relations in all key fields (politics, economy, energy, visa issues, education, values, human rights);

·

gain the opportunity to get in touch with representatives from the EU institutions, key experts and researchers;

·

develop a network of young people in Ukraine, which will be able to exchange their experience and implement joint initiatives in the future.
The project is open to Ukrainian university students in their last years or recent graduates who obtained (or are obtaining) education in the following fields: international relations, European studies, law, political science, economy, finance, business, sociology, journalism, history, cultural studies, philosophy, philology.
In total, four 5-daystudying sessions will take place in different Ukrainian regions throughout the academic year. Two of them will be conducted in the Eastern regions, one in the Southern region, and the remaining one in a Central or Western region. The first session will be conducted in September-October, 2013.
Ukrainian and English will be two working languages of the EU Study Days.
More information about the EU Study Days series (exact dates, selection procedures, locations) will be shortly published on the websites of the EU Study Days (eustudydays.com), EU Delegation (http://eeas.europa.eu/delegations/ukraine/index_uk.htm) and on the EU Study Days' Facebook page (www.facebook.com/EUStudyDays).
Contact person:
Iryna Movchan, director of the Centre for Ukrainian Reform Education, imovchan@cure.org.ua
EU Study Days coordinating group: email: eustudydays@gmail.com, phone: 097 321 47 30.
Four sessions of the EU Study Days took place in Kyiv in 2013: in March, April, May та June 2013.
The project is funded by the Delegation of the European Union to Ukraine