Delegation to Ukraine

News
Good afternoon. Before anything else, let me first express my sincere gratitude to honestly host, to you Prime Minister Laimdota Straujuma and to the Latvian Presidency, for all the work undertaken in preparing the Summit. I am glad to see such a high level of participation from all. It sends a very strong message about our commitment to the Eastern Partnership.
Today in Riga, European Commission Vice President Valdis Dombrovskis, Ukraine's Finance Minister Natalie Jaresko and Governor of the National Bank of Ukraine Valeria Gontareva signed a Memorandum of Understanding and loan agreement for the third EU Macro-Financial Assistance (MFA) programme to Ukraine. The agreements set out conditions for Ukraine to benefit from an additional €1.8 billion in EU financing.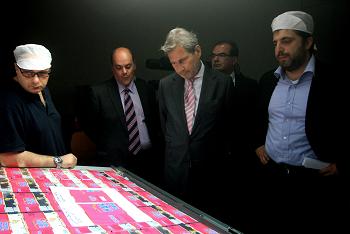 On 27 June 2014, Georgia, Moldova and Ukraine signed Association Agreements (AA) with the European Union (EU). These agreements aim at fostering economic development, long-term stability, efficiency and predictability to businesses. AAs are also the basis for the creation of Deep and Comprehensive Free Trade Areas (DCFTA), which in turn will create new trade opportunities, boost foreign direct investments, economic modernisation and create new jobs in these three countries.
All news
News Subscription
Working together in Ukraine
Funded by the EU, with the support of the Ministry of Social Policy of Ukraine, the campaign distributed 500,000 magenta bracelets across the country with the slogan "Stay Human" - to raise awareness and encourage resistance to domestic violence.
More...

Top News from the European Union
Declaration by the High Representative on behalf of the EU marking the passage of one year since former President Michel Sleiman of Lebanon left office
21/05/15 - Eastern Partnership a policy that delivers [609 KB]

Eastern Partnership a policy that delivers

20/05/15 -

Détention de Roberto Berardi - Guinée Equatoriale

Je vous remercie pour votre courrier du 11 avril 2015 adressé à la Haute Représentante de l'Union pour les affaires étrangères et la politique de sécurité / Vice-présidente de la Commission européenne qui m'a chargé de vous répondre.

19/05/15 - EU proposes to scale up its partnership with ASEAN

European Commission - Press release Brussels, 19 May 2015 Today, the High Representative of the European Union for Foreign Affairs and Security Policy and the European Commission adopted the Joint Communication: "The EU and ASEAN: a partnership with a strategic purpose".
All news