Delegation to Ukraine

News
MEPs approved the new college of 27 Commissioners, as presented by its President-elect Jean-Claude Juncker on Wednesday morning, with 423 votes in favour, 209 against and 67 abstentions. The new Commission now needs to be formally appointed by EU heads of state or government to enable it to take up duty on 1 November for a five-year term.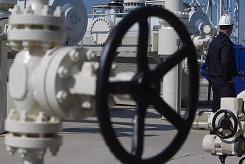 At yesterday's gas talks in Brussels, Vice-President Günther H. Oettinger, built on his Berlin proposals and presented ways to secure gas supplies to Europe and the Ukraine during the winter season.
The Council adopted the following conclusions today:
All news
News Subscription
Working together in Ukraine
The programme assists Ukrainian authorities in developing and implementing regional development policies and action plans. Moreover the funding enables the modernization of municipal buildings such as schools and hospitals.
More...

Top News from the European Union
European Commission Press release Brussels, 22 October 2014 The European Commission is increasing its humanitarian assistance for the Iraq crisis by an additional €3 million as winter approaches and the number of civilians forced to abandon their homes continues to rise as a result of the fighting.
All news